A-4 Mandolins
Some time back in the 1980's I first walked into The Podium in Dinkytown (Minneapolis) and saw my first Gibson A-4 style Mandolin hanging on the wall. The price tag said $500. I knew right then that I would never live long enough to amass such a fortune…so I sent away for a blue-print for $2.50 and went from there. A-4 means a tear drop shape with an oval sound hole. These all have an arched carved sound board made of Western Cedar. (Nice mellow tone…and smells like root beer when you work with it)
The Peg Heads are made of highly figured Walnut Burl. ("Book matched" to get a mirror image) I now use Grover gold plated tuners. The old cheap ones kept falling apart!
The sides are made of rare Curly Walnut. It came from a huge old dead tree that was taken down from an old lady's front yard somewhere in Iowa. I have enough of this wood to make about 30 or 40 more Mandolins!
The back and neck is made of Curly Maple…as is the light colored strip around the edge. The fret boards are made of Burled Walnut, Cocobolo Wood or Ebony.
| | |
| --- | --- |
| | |
| | |
___________________________________
Mandolin # 55.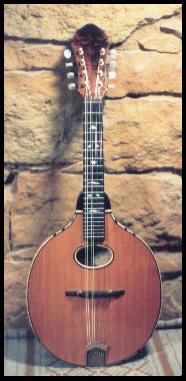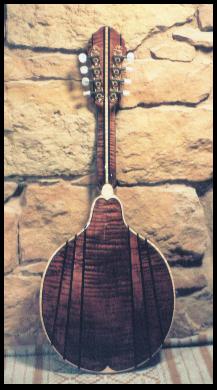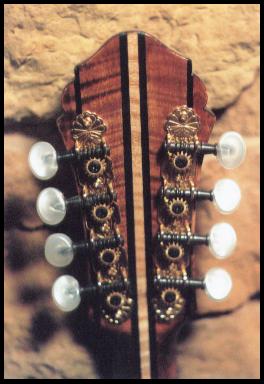 Back, sides and neck made of highly figured stained Maple. Fretboard is Ebony with clam shell inlay. Peg head is quilted Walnut. Soundboard is Western Cedar. The neck is an 'extra wide' ...specially designed for those big fat farmer hands! (Inspired by my ancient old Uncles...most of which are gone now but a few are still with us.) 1 and 3/8 inch wide at the nut. Tuning machines are cheap (but good) Ping Tuners. Tailpiece is an Allen brand tailpiece. (Really expensive but well worth it.) It's a real solid chunk of bronze that increases the tone and balance of the instrument. The strings on this one are GHS silk and steel.
Makes for a nice 'classical' style Mandolin. Chocolate Mandolins!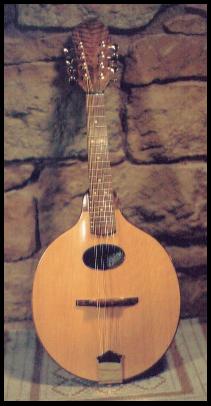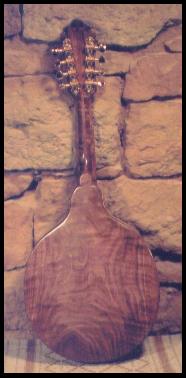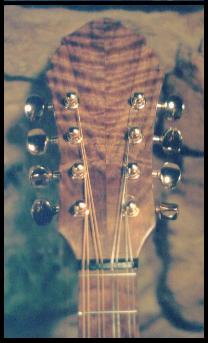 A-Style Mandolins now come in a variety of Flavors: Chocolate, Vanilla, and Strawberry! Chocolate Mandolins are made entirely of Burled Walnut. Vanilla Mandolins are made of highly figured Maple and Strawberry Mandolins will be made of Cherry Wood or stained Maple.
(All will have Cedar or Redwood sound boards)
These are the "No Frills" models. This simply means that the hardware is of good quality but more affordable. There is no fancy inlay or bindings around the edges. All you get is a quality built instrument made of the most absolutely gorgeous wood I can find!
(I simply cannot use plain un-patterned wood of any kind)
Prices start at $ 1800.
None currently available. (Sorry...All sold out!)
Custom built cases from $350-$450.