________________________________

For about 30 years now I've had an old dead headless Cello stashed away down in the basement, so last Winter I decided it was finally time to bring it back to life. I made a new head and neck, a fret board, new bridge and tailpiece. It wasn't as easy as I though it would be, but it worked!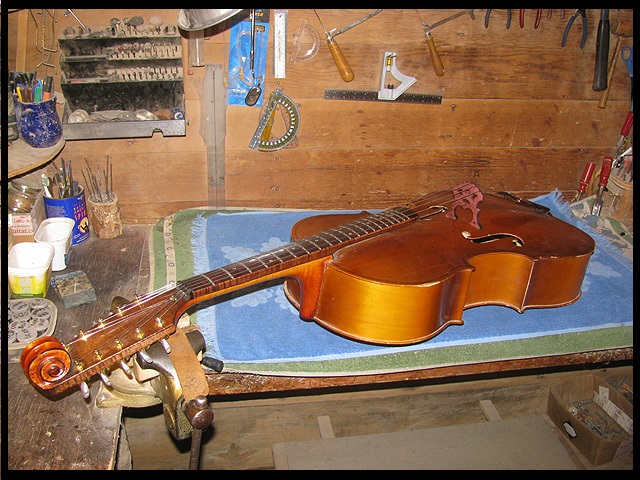 The face plate is stained Walnut brown.
The tuners are the same as I've been using for years now: Affordable but really top quality individual Guitar tuners.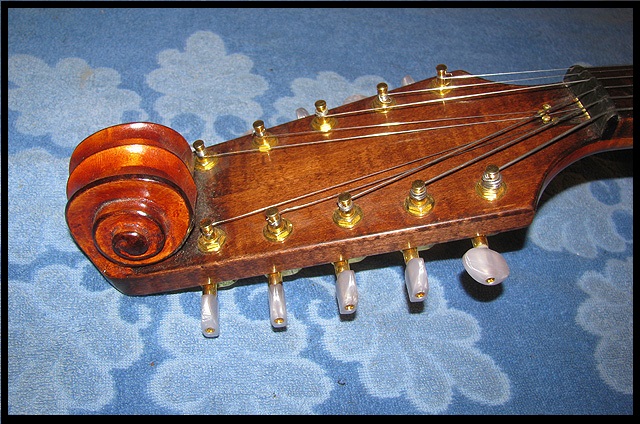 The fret board is made of
Hard Rock Curly Maple stained brown.
The radius is an outrageous 4 degrees (!) and yes you actually Can bend hard nickel medium sized Guitar frets that far.
(There 's a trick to it, but it can be done)
The top is made of 4 pieces of carved cedar or pine. (Herd to tell) But you can plainly see 3 distinct lines running thru it all.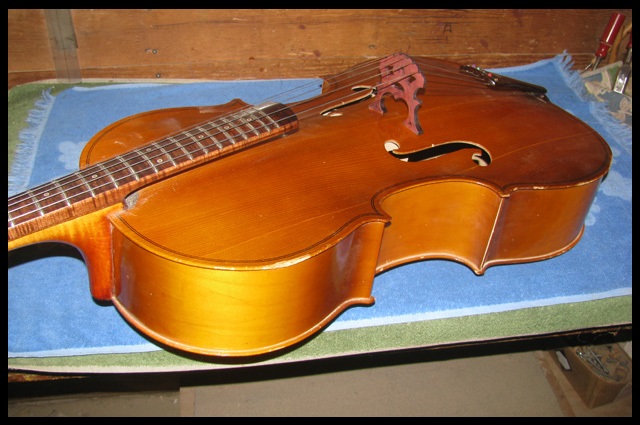 The body was made in China
and has several nicks and dings along the edges and it was apparently not a 'top-of-the-line' model, but it has a really surprisingly nice tone.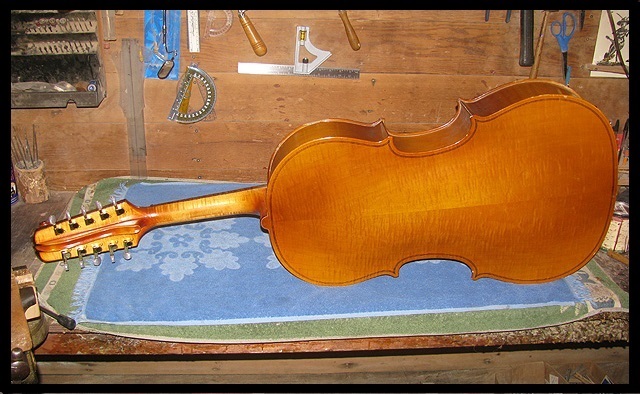 The head and neck are made of hard rock
Curly Maple.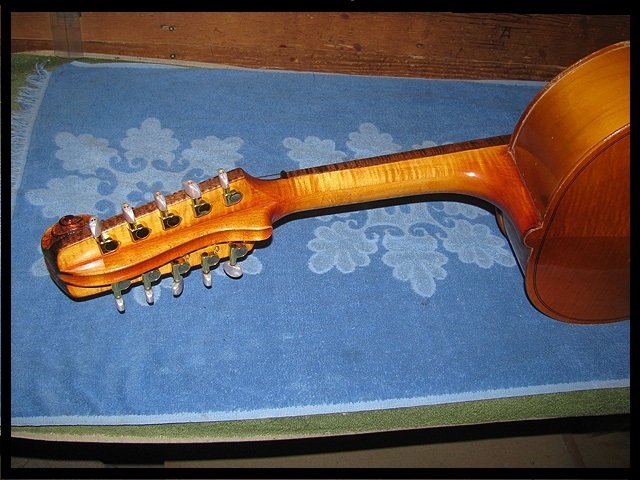 The back is made from 2 especially nice pieces of Curly Maple.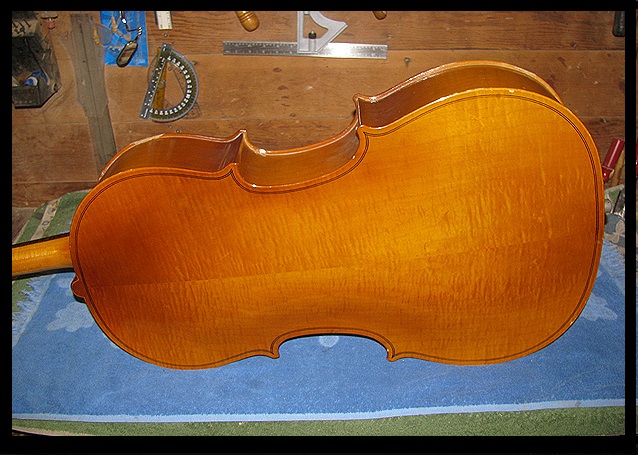 The nut is made of Ebony.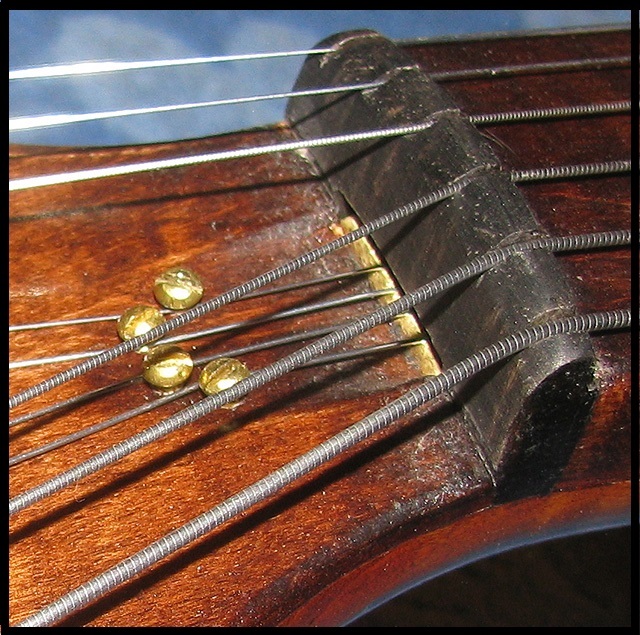 With 4 under-strings running under
the fret board.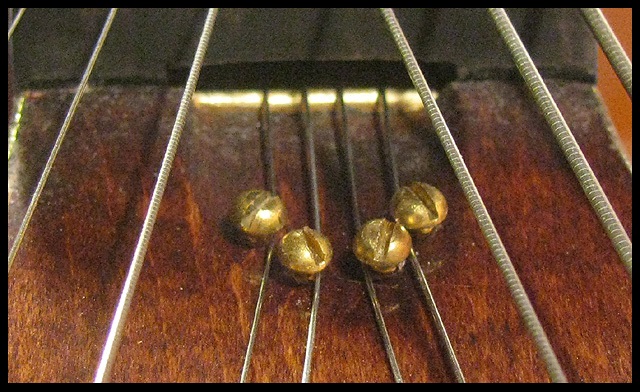 The bridge is made of Maple with 6 Ebony inserts under each top string, and has a new design for easy removal: Now the under-strings can simply be removed thru the gap in the lower part of the bridge.
No more re-stringing all of them to remove the bridge for maintenance or repair!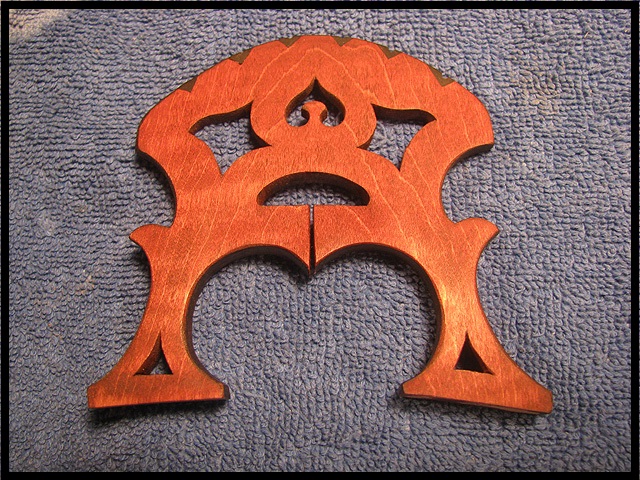 And it works too! The under-strings give off a nice resonant harmonic when the top strings are bowed or plucked.


The Maple bridge is stained Merlot.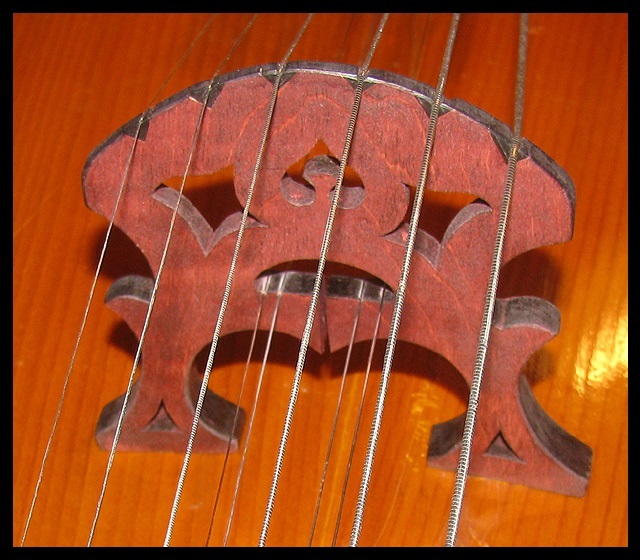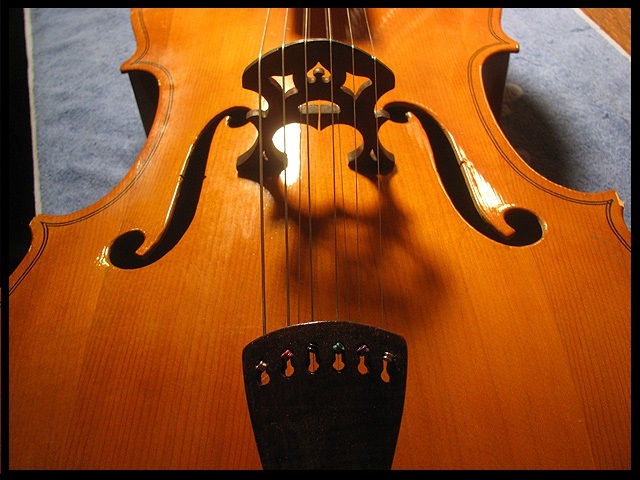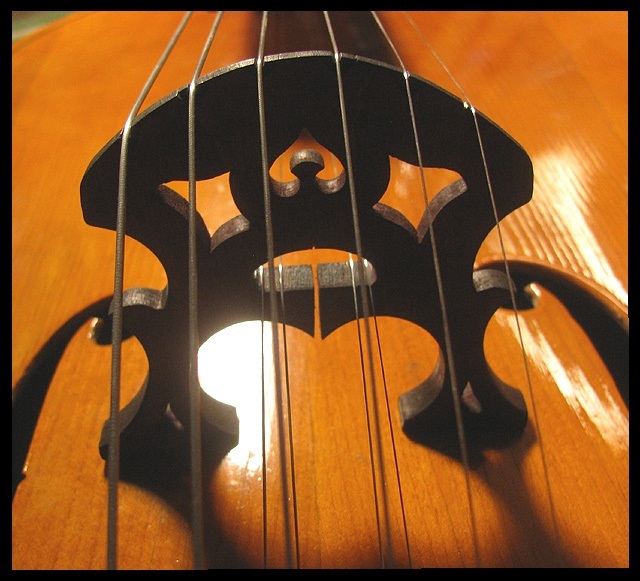 The tail piece is made of Curly Maple stained brown to match the fret board and head stock.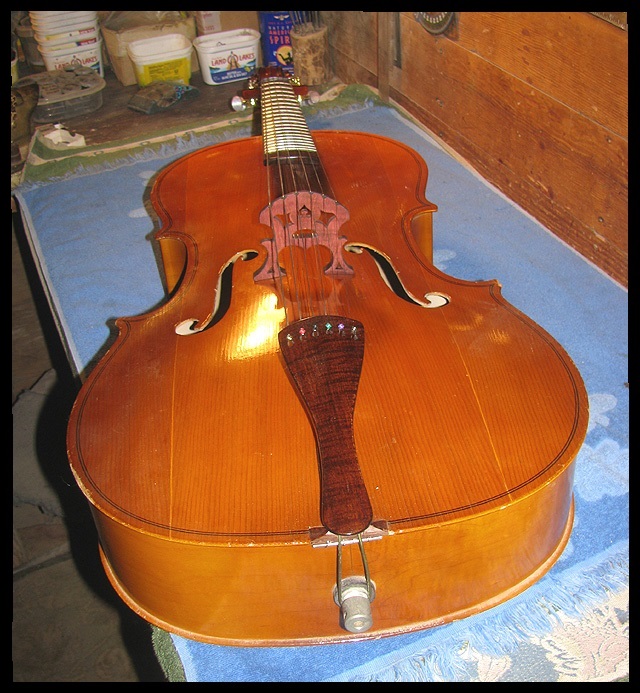 It is held on with a bent coat hanger.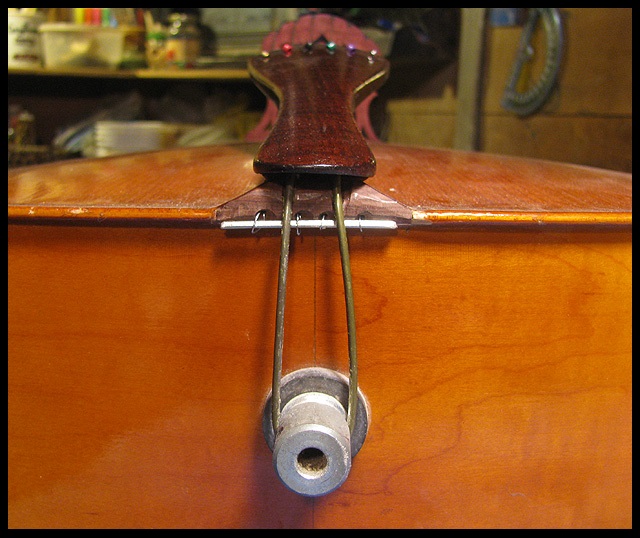 The 4 loop-end under-strings run thru the nut and are attached to a piece of fret wire.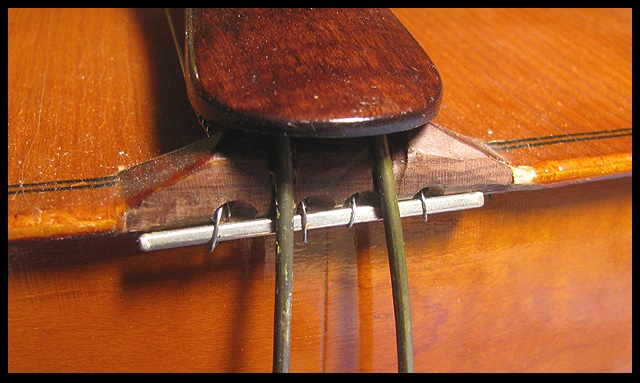 The strings are D'Addario Chromes
Electric Guitar strings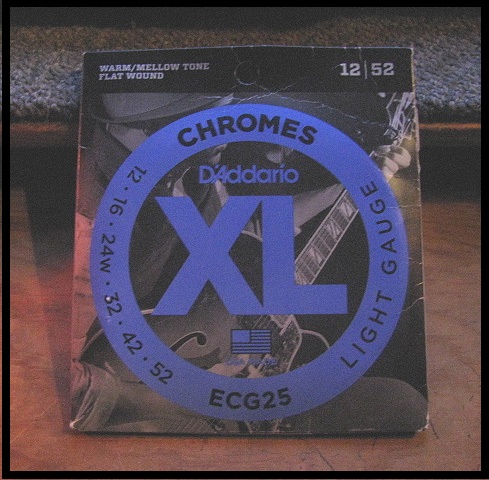 There is a price tag of
$1600
on it, and it is now on display and for sale at Scheitel's Music
in Mankato, Minnesota.
__________________________
Scheitel's Music has a nice Cello case that it fits in to, and several nice quality bows to choose from too.
____________________________
I have a video/sound sample, but it will be a little while before that is up.
(Keep checking in)
________________________________

10 - String Viking Hardanger Viola.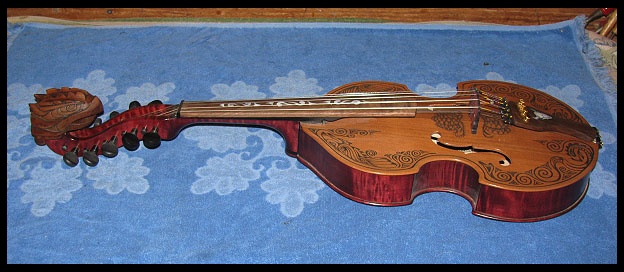 I made this about a year ago now, so it has had plenty of time to settle in.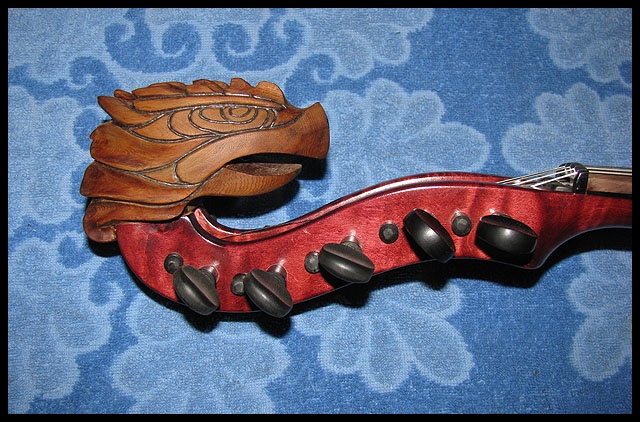 The carved Dragon figure-head is made of
Western Cedar.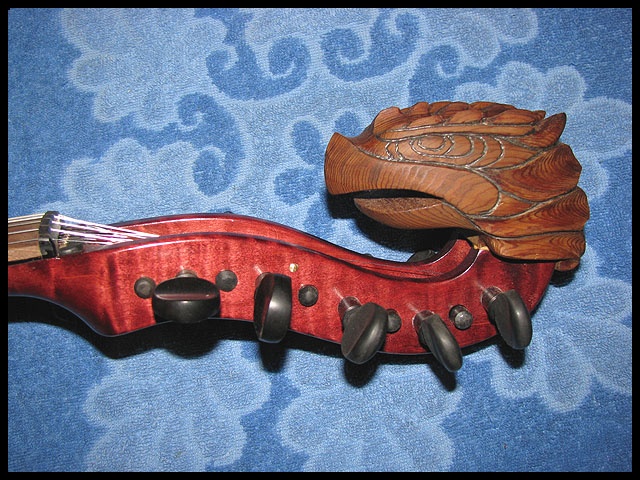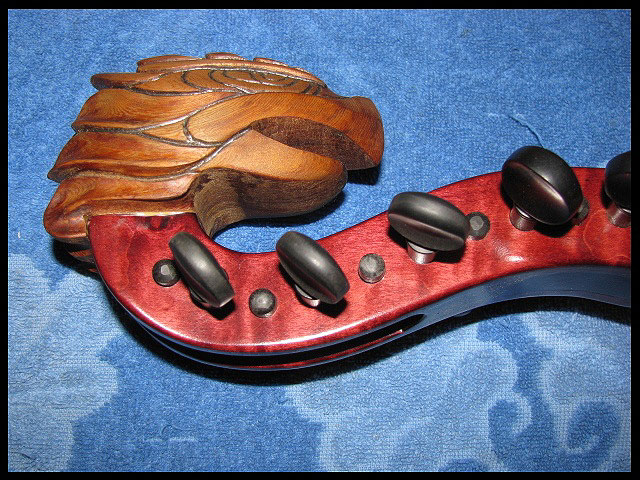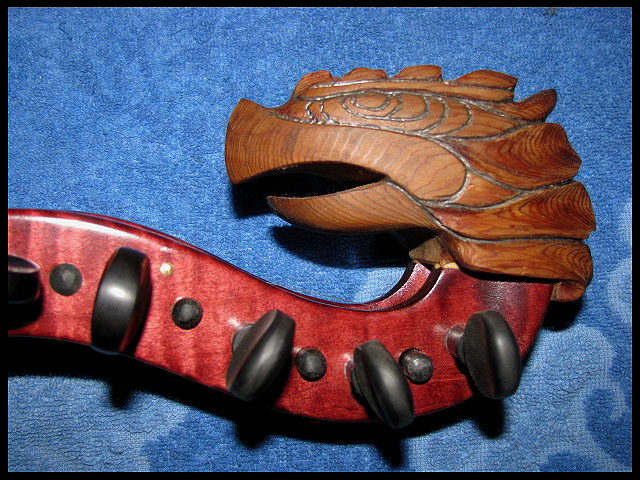 All of the tuners are Knilling Perfection Planetary Geared Viola Pegs.
(Which makes the tuning of the under-strings shockingly easy!)

l'll NEVER use friction tuners again!!!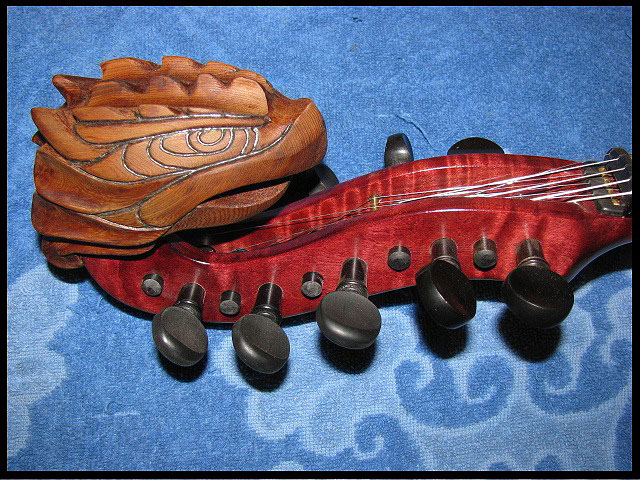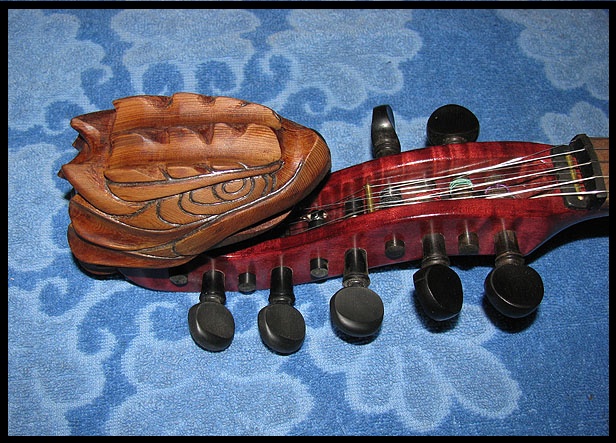 The inlay in the Walnut finger board is made of Clamshells from the Watonwan River.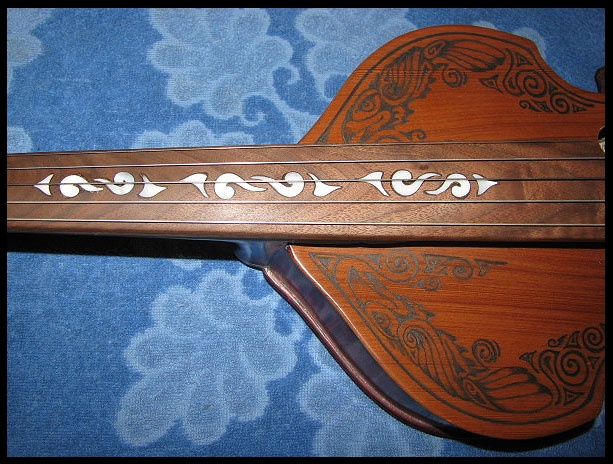 5 Bowed strings on top with
5 under-strings down below.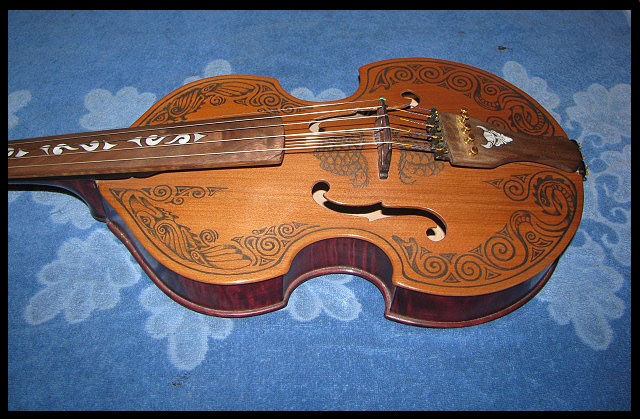 The Redwood top is decorated with Scandinavian designs in pencil.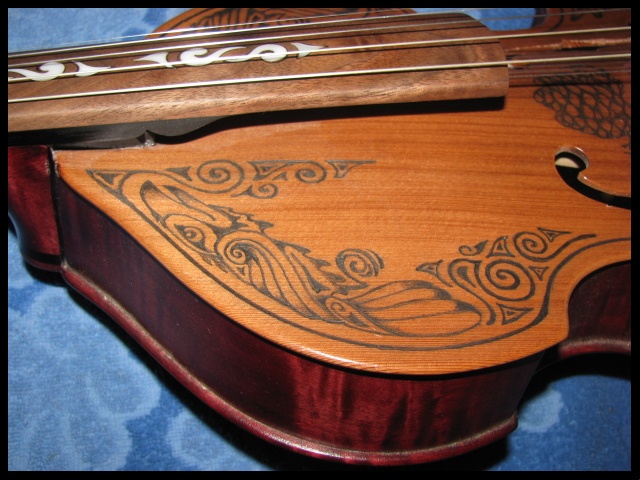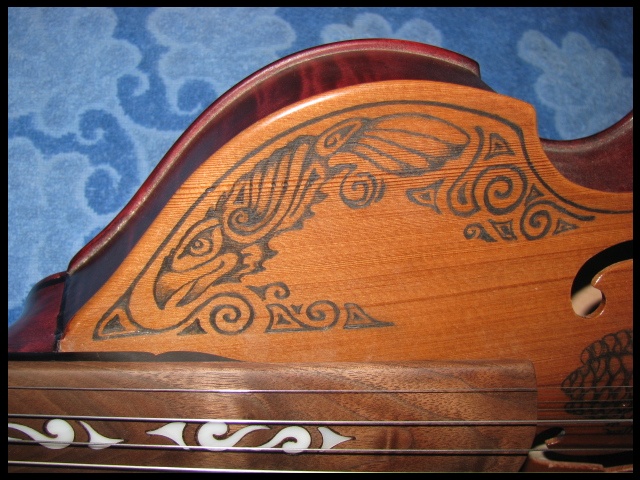 And of course includes Thor's two most famous Ravens: Hugin & Munin.



The Walnut tailpiece has a clamshell
Viking in between two Sea Dragons.
(Our grand child calls it the 'Viking Stormtrooper')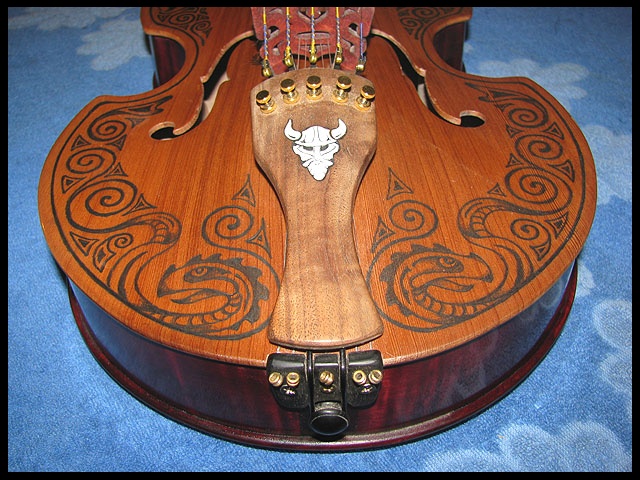 The ends of the understrings are attached directly to an Ebony block at the end of the body, thus relieving pressure on the tailpiece.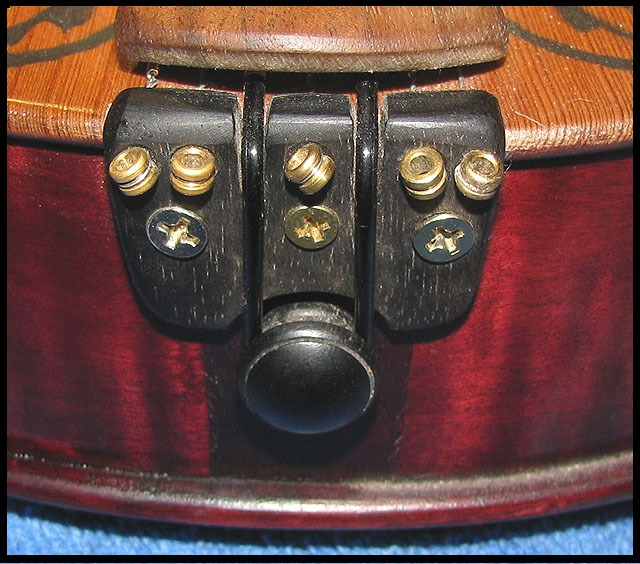 In the past, I've had some trouble with the bridge tilting forward over time, but I am pleased to report, that even after a year, this bridge is still as straight up and down as the day I strung it up!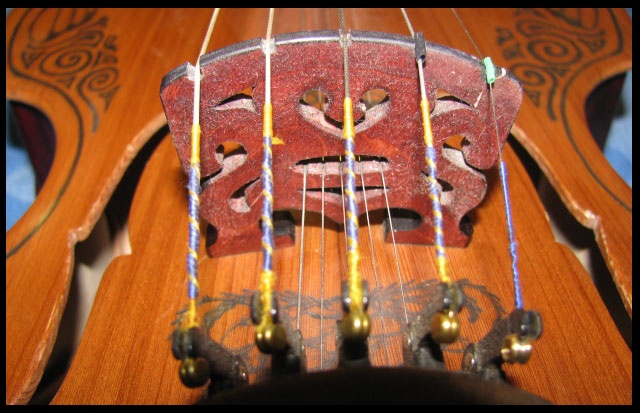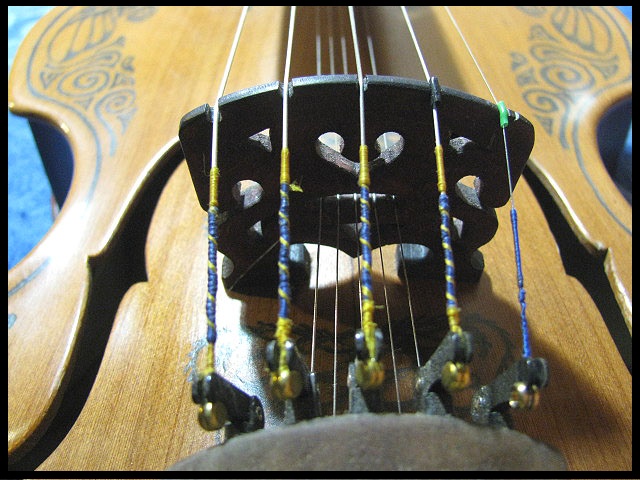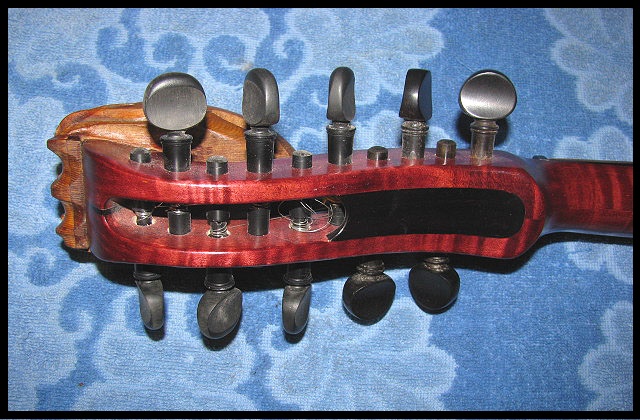 The peghead, neck, body and sides are made of highly figured Maple stained a nice deep burgundy wine colored Marlot.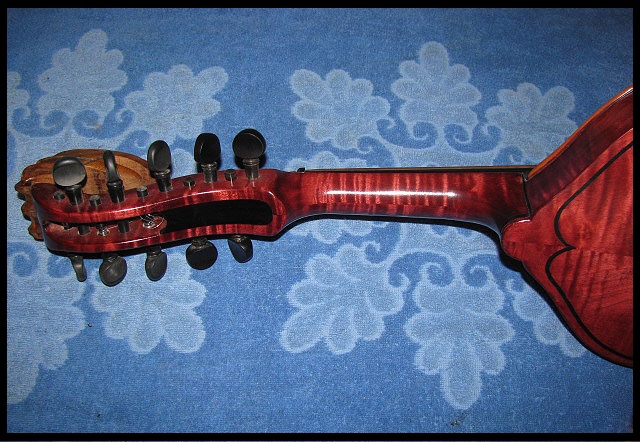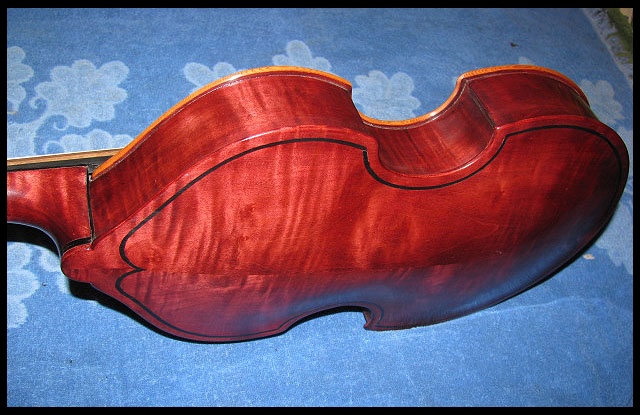 The depth of the side ribs are
1 - 3/4 inch deep.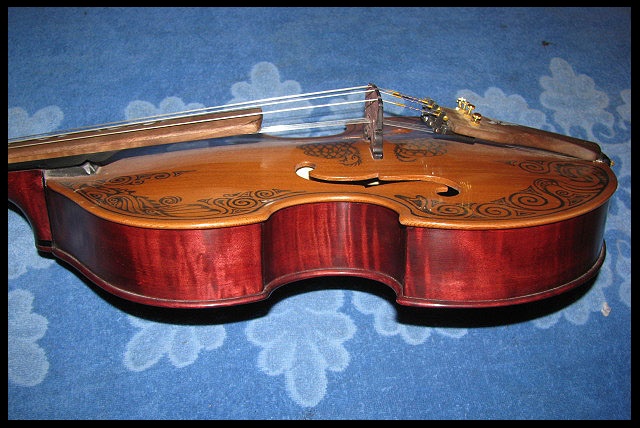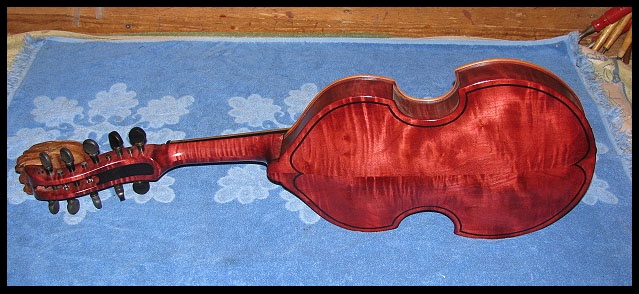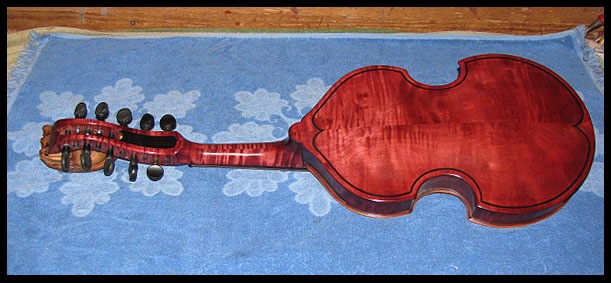 One thing you might want to know:
Because I used some fairly heavy hardwood for the inside neck and tail blocks,
The total weight of the instrument itself weighs
2 pounds 8.2 ounces.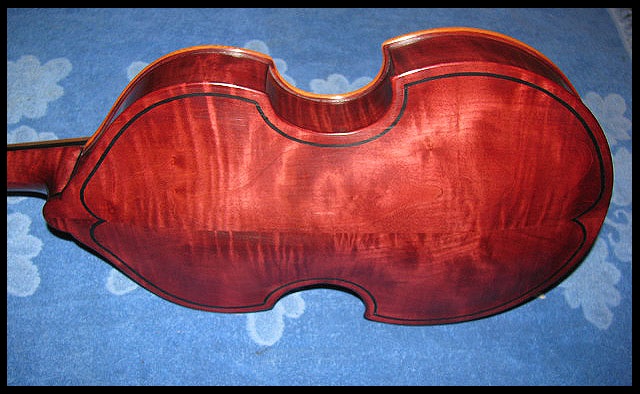 The top and sides of the case are made of carved Pine 2x4's stained Merlot...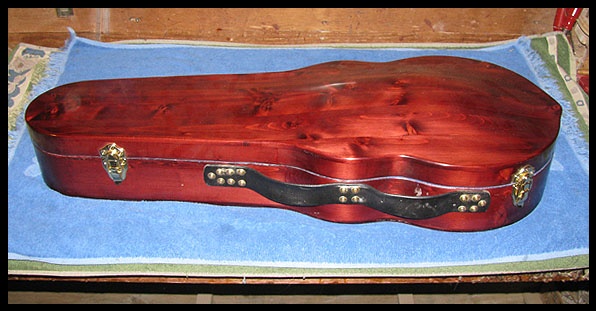 ...with a Leather strap and brass
hinges and hardware.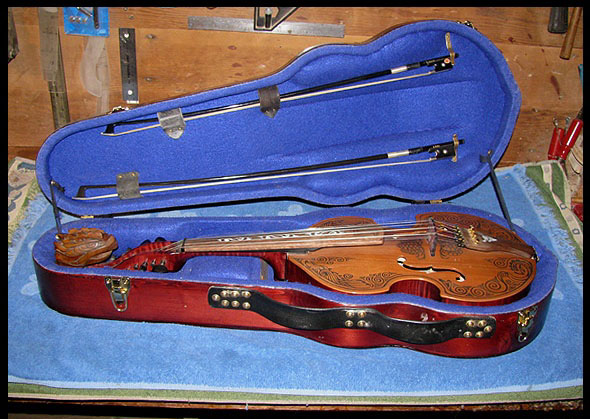 The inside is padded with foam and blue felt.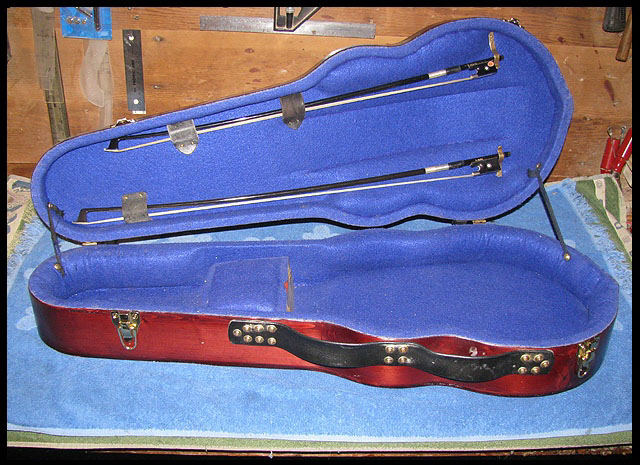 A small hinged compartment case
is included.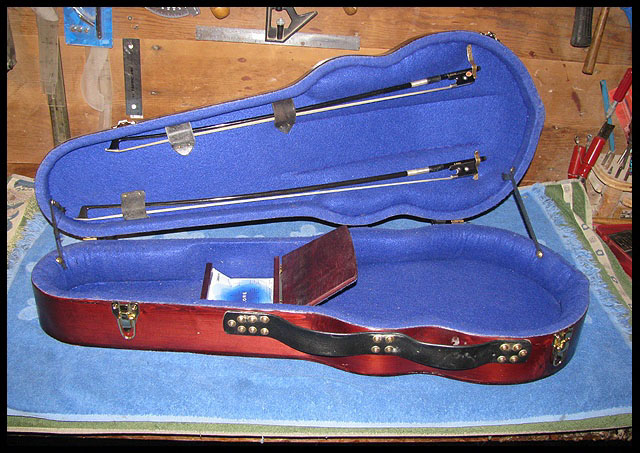 The back is made of a nice
piece of plywood.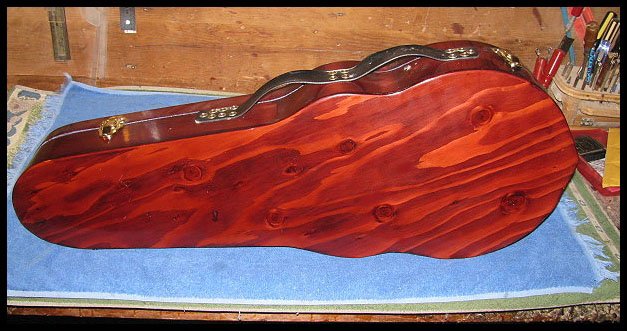 SOLD !!!

(There will be another one of these real soon)

___________________

The FiddleHarpa is also for sale!
And will also be available for inspection at the Nisswa Stammen in June, too.

(Scroll down the page a little way
for all the details)
___________________________


The Nyckelharpa (

or "Keyed Fiddle"

) is the national folk instrument of Sweden.




I made my first Nyckelharpa in 1999 thanks to a grant from the Prairie Lakes Regional Arts Council.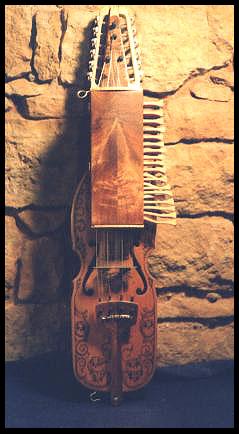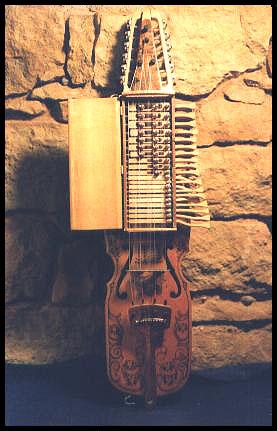 The design is based on the blueprints from the book I bought from Soren Ahker. I eagerly awaited the arrival of the original 1998 copy and was somewhat surprised (?) that the text was printed in Swedish! A bit of a barrier that for some reason I either didn't think about at the time or simply knew that the numbers, measurements and dimensions would be the same... which thankfully they were.
(A few years later, this fine instruction manual was printed in English but I have Yet to see a copy of it!)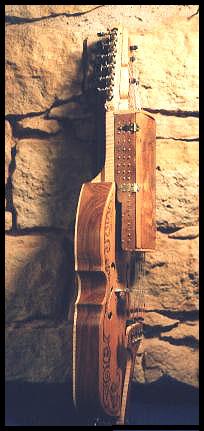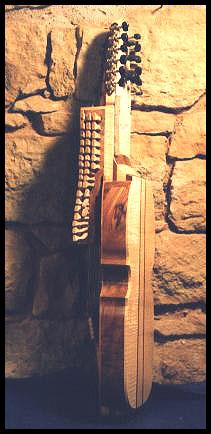 Anyway...This is how it turned out. I was quite pleasantly surprised that it turned out as well as it did. For at the time, I had never seen one in person and certainly had Never played one before.
_____________________

My next project was to build a
Moraharpa
.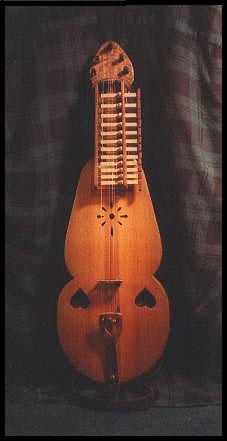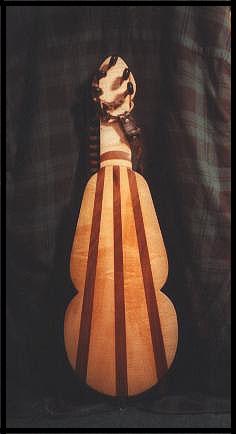 This is the old medieval form (or ancient ancestor) of the modern day Nyckelharpa. There is a stone carving on a church in Gotland, Sweden.

Below is an excerpt taken from the American Nyckelharpa Association web-site:

The oldest "evidence" of nyckelharpa use is a relief (left picture) on one of the gates to Kallunge church on Gotland from about 1350 depicting two nyckelharpa players.



I built this one from photographs off the internet. Its a very simple design and also has a very limited playing range.
(It must have been more of an accompaniment to some sad, droning vocal lament...so common in Medieval Scandinavia)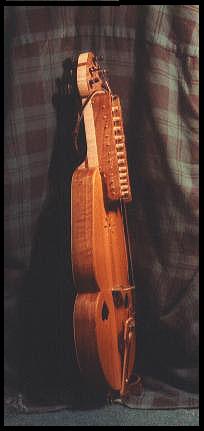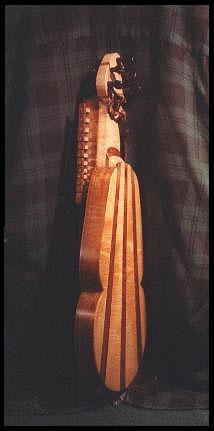 It turned out real nice, too but it was like driving in only one gear. A friend of mine, who is part of a local Medieval reenactment group, bought this one.
___________________________

My next attempt was to build a

"Fiddleharpa"

.
The standard size Nyckelharpa is tuned like a Viola and I wanted something that could be tuned and played like a Violin.
I experimented a little with the design, as this one has a carved arched top and back. I have found that this didn't necessarily add to the sound of the instrument, as the first one I made (with a flat top and back) actually sounded better! I also added in a 4th row of keys for the 'G' string. (This was apparently nearly un-heard of at the time, as I recall very few builders had tried this) Times have changed though and it is now quite common to see several different varieties and experimentation going on with the making of these instruments.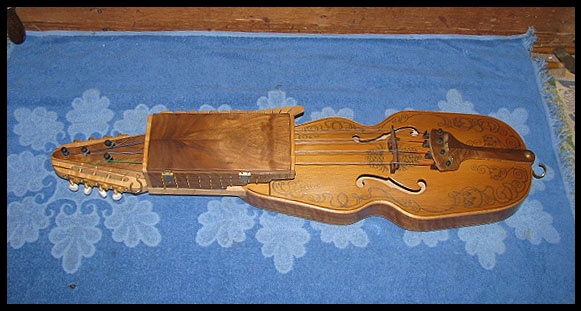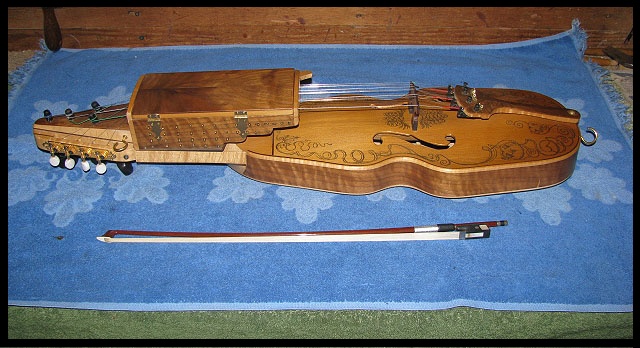 Made of highly figured Maple for the back, neck and keys. Walnut for the sides, tailpiece, peg box and top lid.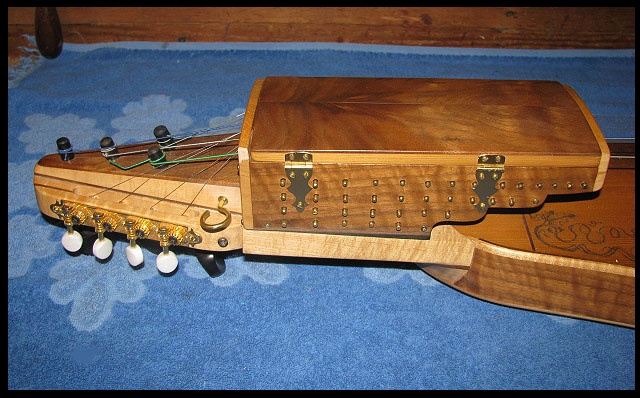 The soundboard is made of Western Cedar and is adorned with an intricate grapevine design in soft lead pencil.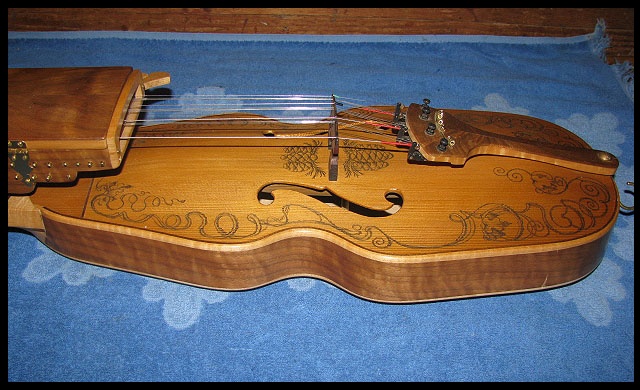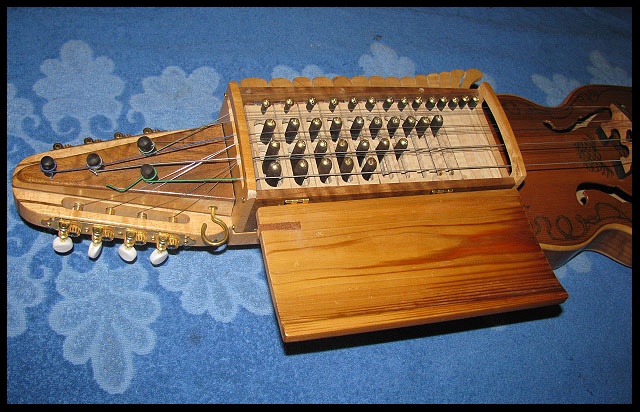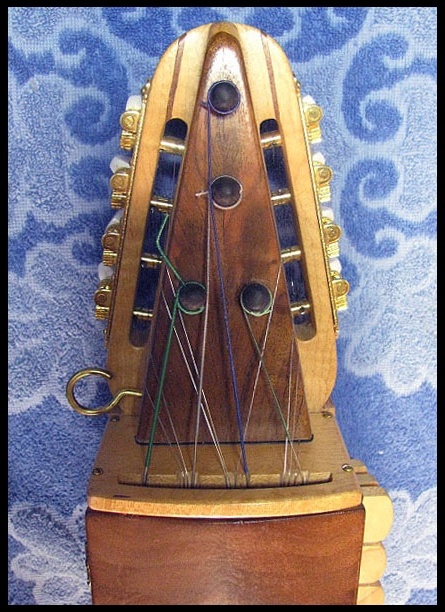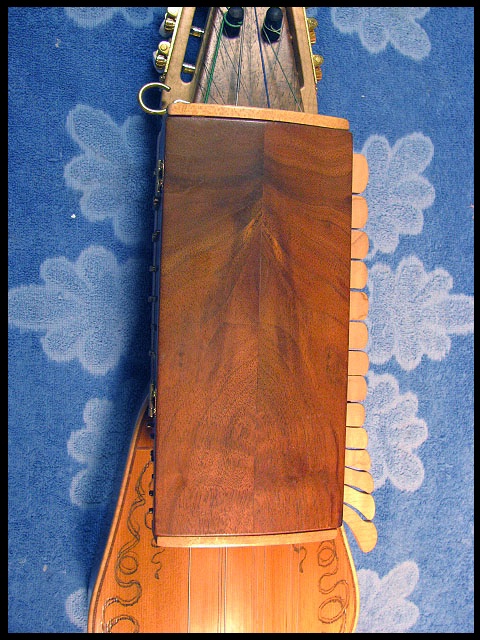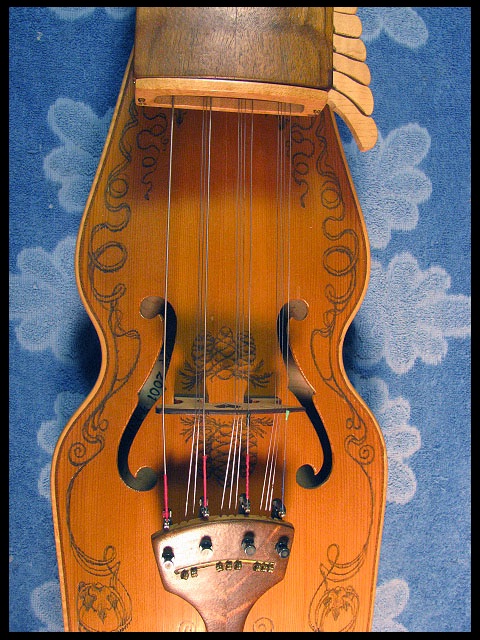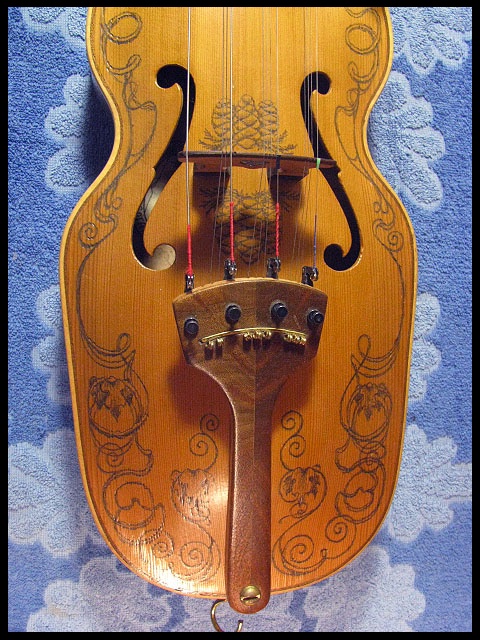 Each key is attached to the left side peg box by little brass rods that are easily visible when you press in a key. This makes it easier to see where you are with the lid down.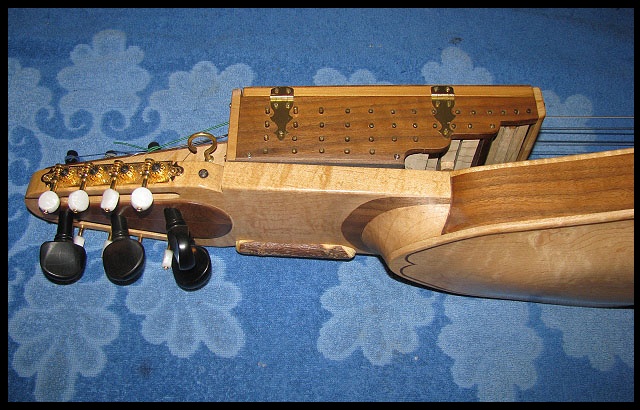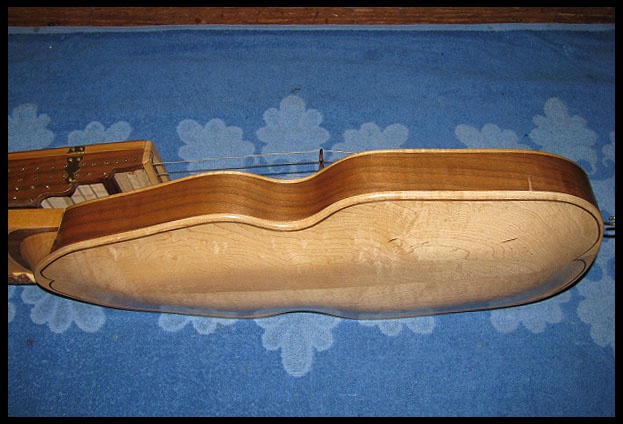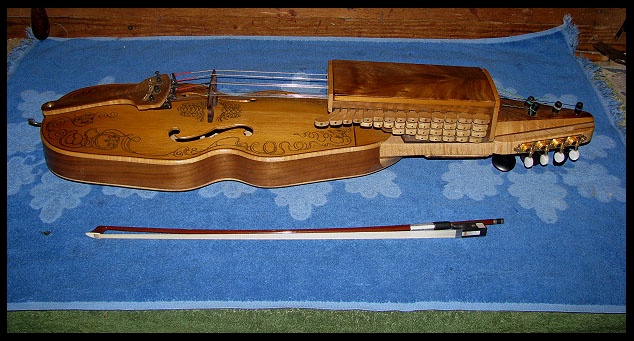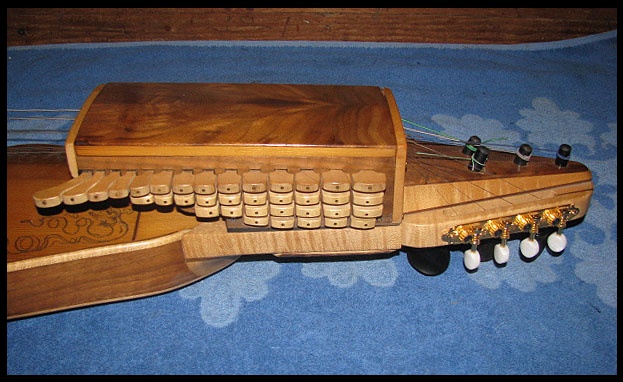 The keys are rounded to make it easier to slide up and down the scale. The lid is a non-traditional addition that can easily be removed if it gets in the way of seeing the moving keys.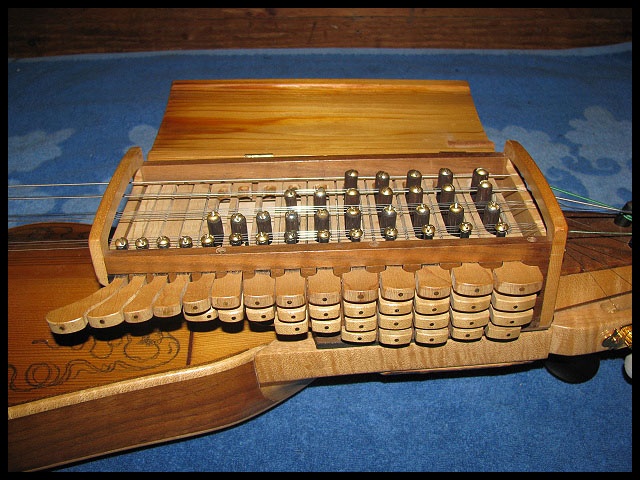 The 'E' string tangents are made of pieces of oblong aluminum rods (actually model airplane parts) It was an experiment that worked. The rest are pieces of Cherry wood stained black.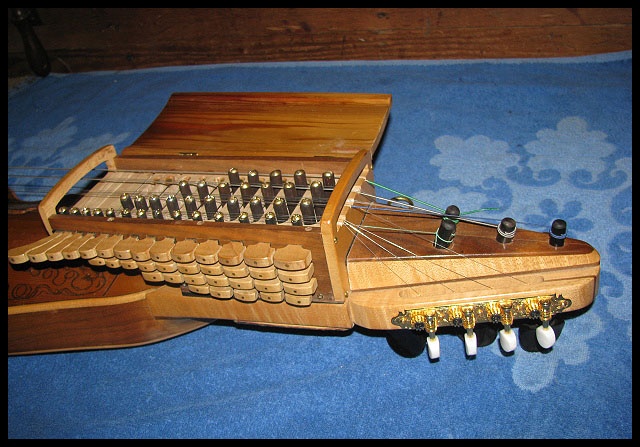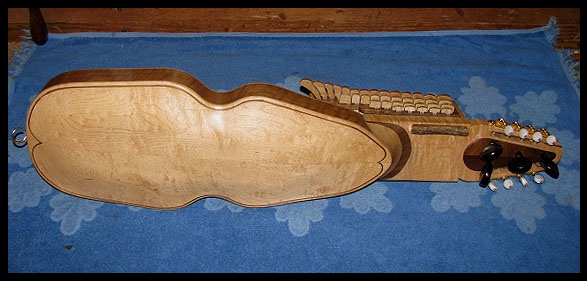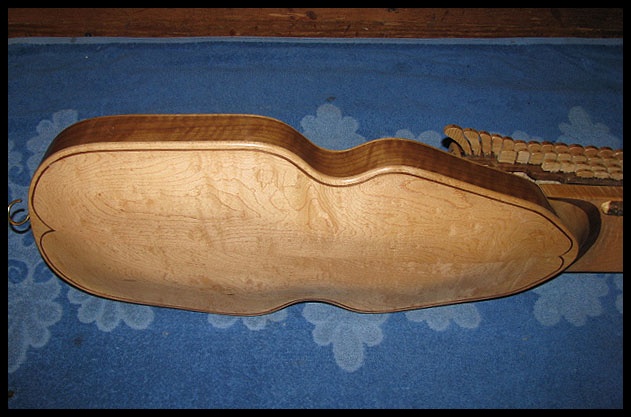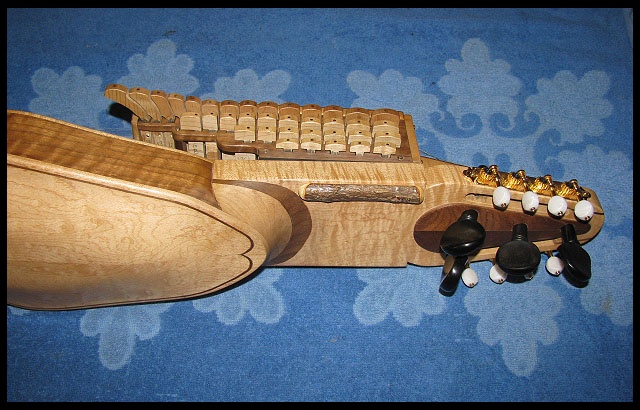 4 Ebony 1/8 size Cello tuners for the main strings and a set of Gotoh Mandolin tuners for the under strings. (I added in a piece of tree branch as a thumb rest) Scale length, from nut to bridge, is 14 inches.
(About the same scale length as a Mandolin)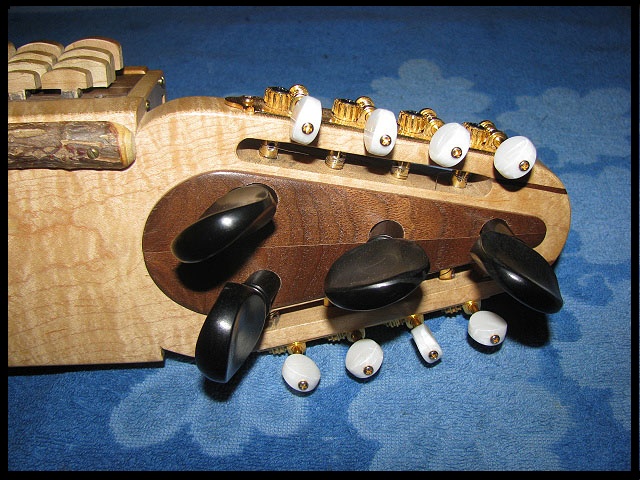 The case is made of Pine and Plywood and is padded with foam



and lined with felt.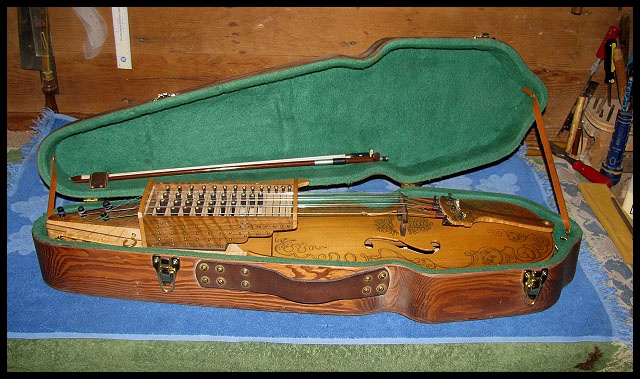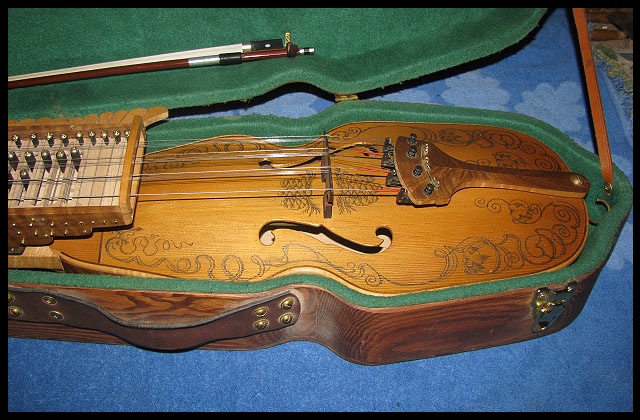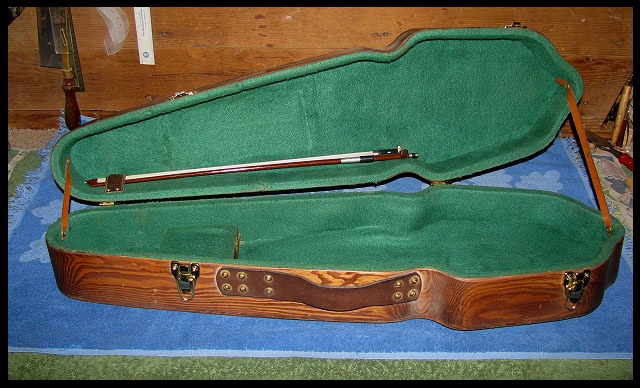 There is a small storage compartment with a lid. A half-size Violin bow an a leather strap is included.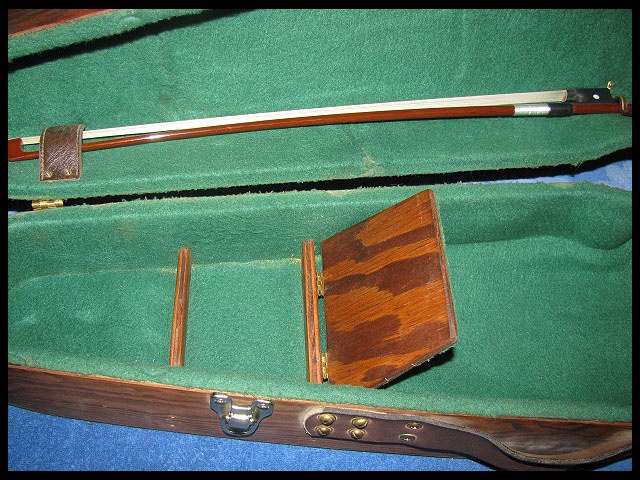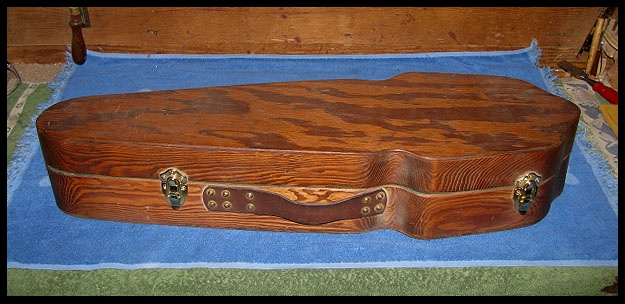 The back of the case will have 4 black rubber furniture bumpers, as soon as I get them installed.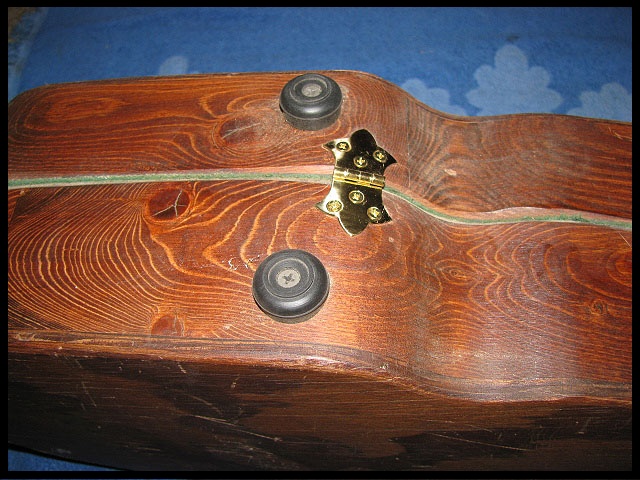 The lower side of the case has rubber furniture bumpers to keep the hinges from scratching up the furniture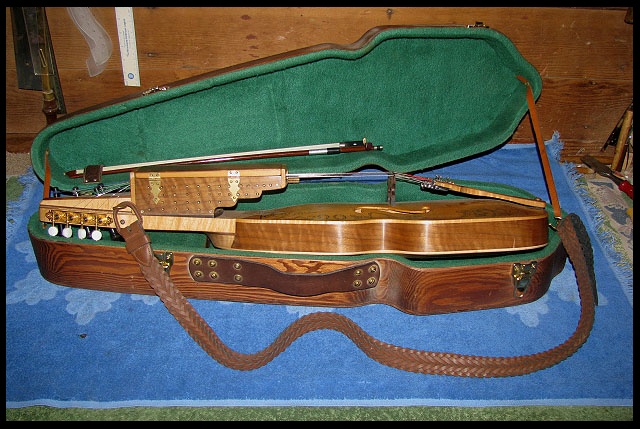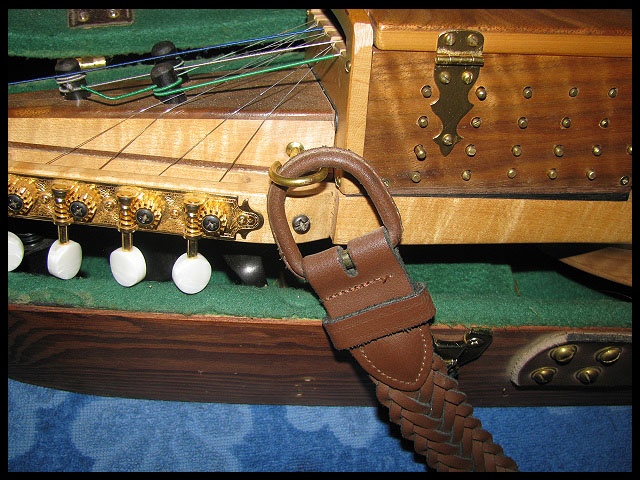 Nice soft braided leather belt for the strap.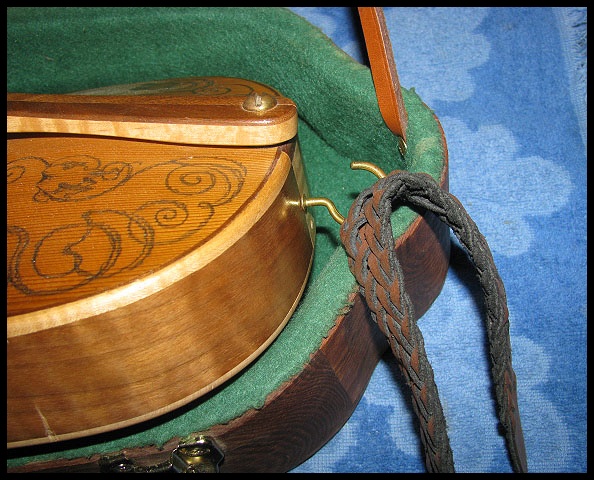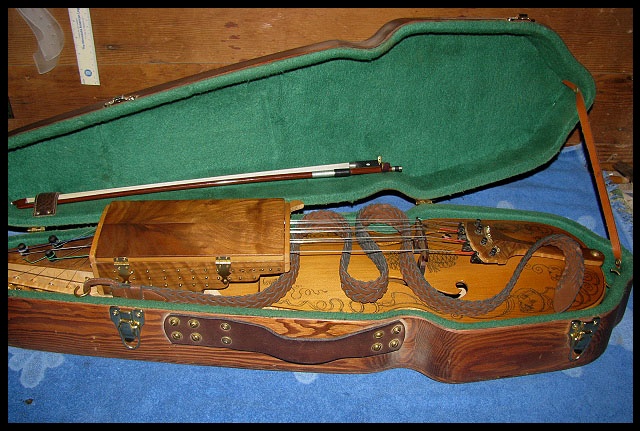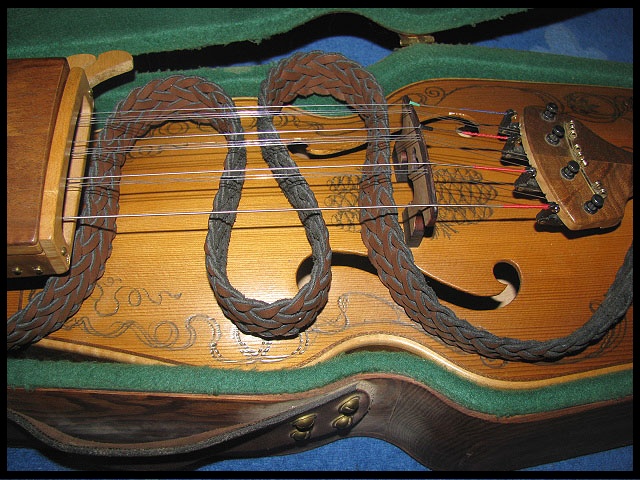 Here's something you'll probably want to know:

Over the years, I've actually had to re-build this thing twice. Over time, the pressure of the strings (and a less than solid neck joint) has caused the 'Harpa to bow up until it looked like a Swedish Cod Boat! The solution to this was to re-angle the peg box, raise the bridge and re-align the strings with the tangents. I've done this twice now, and I'm positive it has 'settled' and bowed up about as much as it can.

You can see by the blue line down below that the line between the nose and the tail is not perfectly straight, but ever so slightly bowed. This will not affect the sound or playability of the instrument. It's just one of the unique and quirky
things about it that makes it special.


________________________________________________

$2400.
(Includes case, bow, leather strap and rosin)

_____________________________________________
All products Shop Cat tested and approved!