----------------------------------------------------------------------

April/May/June:
The search continues for Blandings Turtles!

(A state threatened species) We are still looking for reports and sightings of these rare and reclusive Turtles in the SW and south central counties of Minnesota.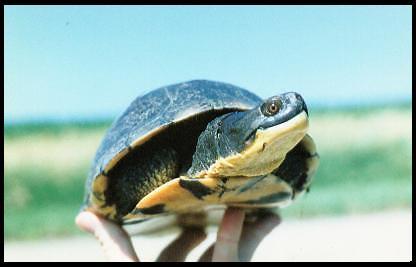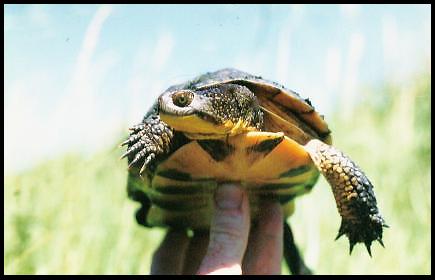 If you find a Turtle with a bright yellow chin and throat and it looks like its Smiling at you...PLEASE: Leave it Alone and DON'T bring it home as a "Pet" !!!
If you can...take a good close-up photo, let it go on it's way and contact me.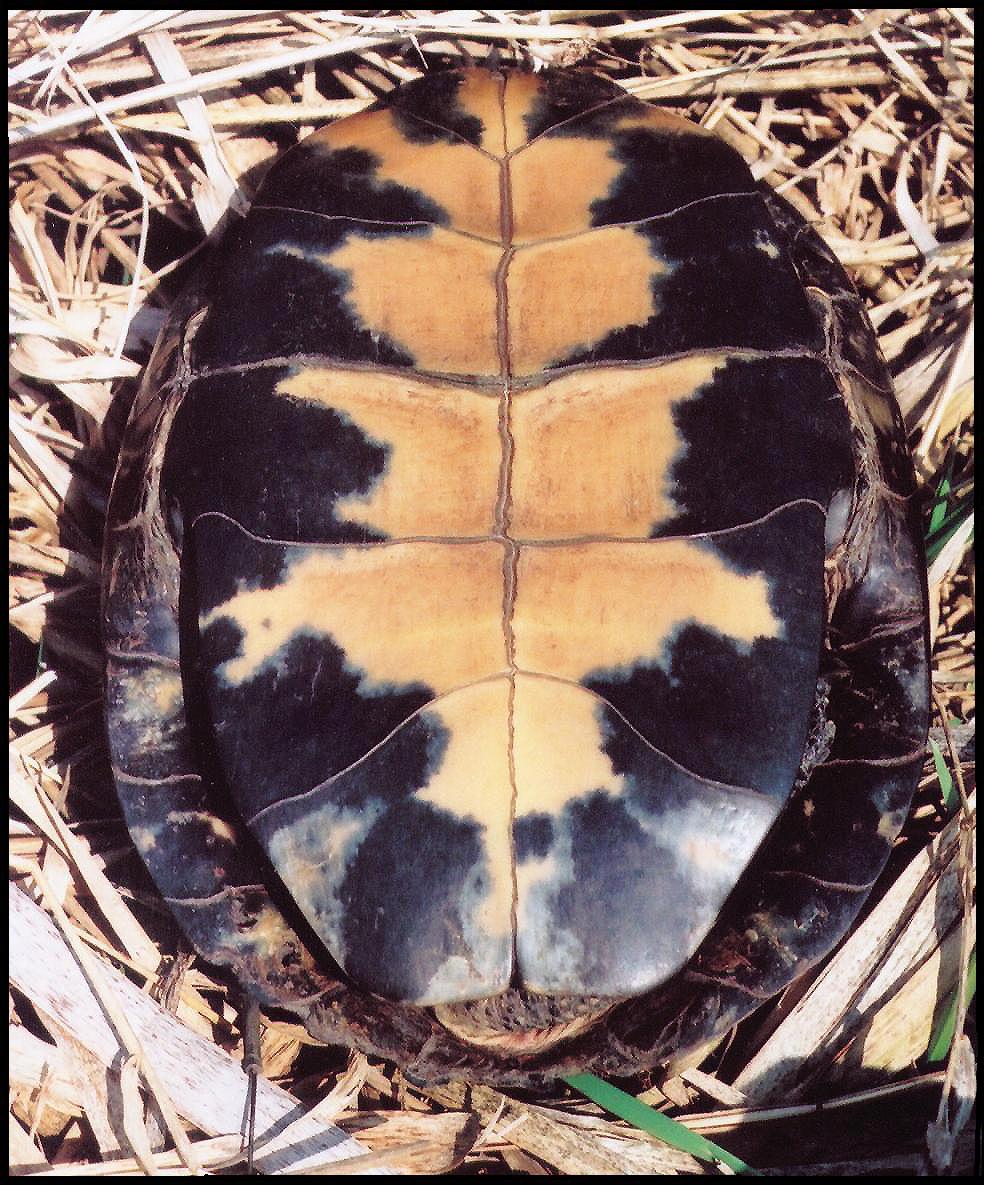 Actually...If at all possible...try to take as many detailed photos as you can. (Especially of the chin, throat and belly) The belly pattern on each Turtle is different (kind of like a finger-print) and we use these to identify each individual one.

Part of the Blandings Turtle project involves radio telemetry.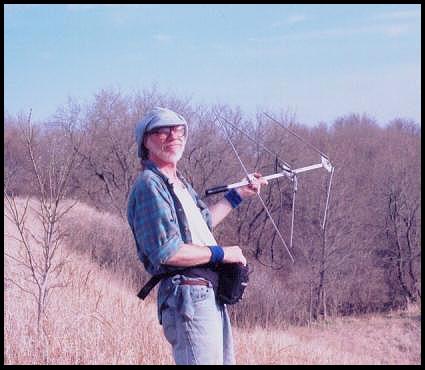 During the month of April, turtles are captured and a small radio transmitter is attached to the back of the shell. Each radio emits a beep on a certain frequency, and as you turn the antenna towards the radioed turtle, the receiver picks up the signal and the beep gets louder and louder the closer you get.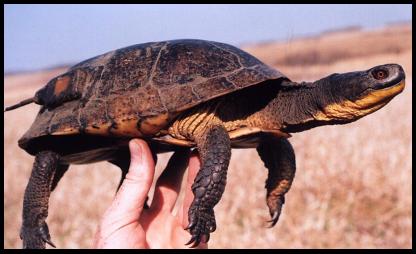 Here you can see one of the small devices attached to a Blandings Turtle. They are glued on with a rubber epoxy and eventually fall off if the battery wears out and the signal goes dead.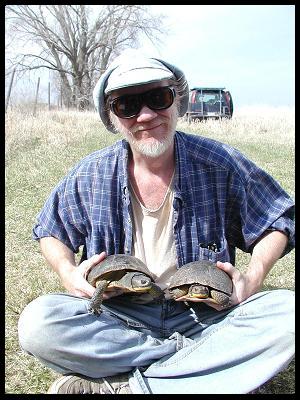 We've already found a lot of really cool and surprising information on the life habits and wanderings of these ancient Turtles. The data is still being entered into the state natural heritage data-base and more info will be available as soon as we know more.
_____________________________________
May/June
2008
In the Spring of 2006, I returned to scanning the wetlands of SW Minnesota for Amphibians. (After spending the previous 4 Spring seasons in Eastern South Dakota.) "Scanning" means driving around from sundown till 2 or 3 in the morning listening for the mating calls of Frogs and Toads. It was great fun until it got really expensive. Fortunately, I just finished up the latest contract with the DNR just at about the time when gas prices hit $ crazy! Lately I've been doing a lot of field research from the seat of my bicycle.

Anyway...There is a list of "target species" that we concentrate on looking for. These are the ones that are classified as somewhere between "not quite so common" to "critically endangered". For example: Garter Snakes, Painted Turtles, and Leopard Frogs are still fairly abundant so I don't stop and take a photo of every single one of those I find. (I do however, keep track in my journal, of every single Reptile and Amphibian and other critters that I encounter)
The Blandings Turtle, of course, is on this list. And there are several other kinds of Amphibians that we are monitoring including these two:


the
Gray Tree Frog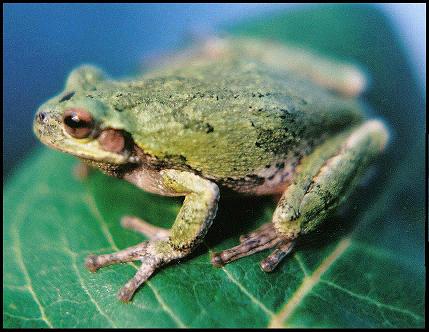 and the
Great Plains Toad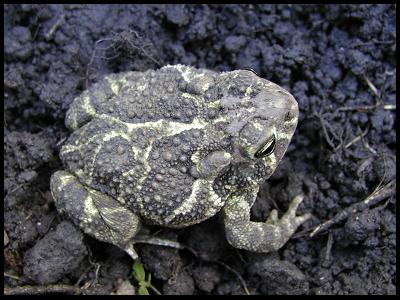 Tree Frogs
are small, about an inch and a half long and can change color from gray to green to match their surroundings. They are extremely difficult to see although their call can be heard from quite a distance, and kind of sounds like a short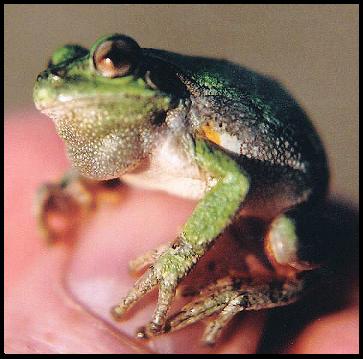 loud metallic "belch". They live in groves of trees for most of the year and during the breeding season, travel (sometimes great distances) to pools of standing water. Breeding season lasts from early May through June. Although Tree Frogs will occasionally call 'just for fun' all the way thru summer on warm muggy nights.




Tree Frogs seem to absent from the six SW Minn. counties. They are abundant in Watonwan, Brown and Martin counties wherever there are trees and standing water. I have been gathering evidence since 2006 that Tree Frogs may be expanding their range farther west. They seem to be colonizing the corridors along the 3 branches of the Watonwan River and

Elm Creek.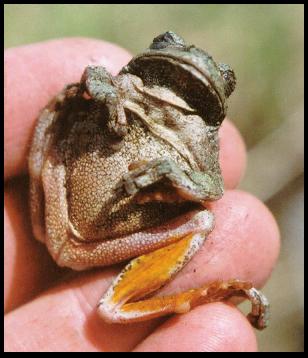 This past spring I heard them calling in several places 2-3 miles farther west than last year and the year before. They seem to go only so far, then go silent even tho there is favorable habitat farther to the west. (This is a long term project and it is way too soon to announce these findings officially.) This has become my own pet
project and I am already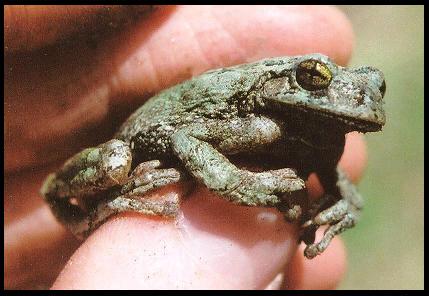 looking forward
to
next year so I can "pick up the trail" once again. I absolutely Love these weird little things! It's just about the closest you can get to actually meeting a little buggy-eyed space alien!
This past June, after those heavy rains we had, I heard more Tree Frogs than ever before, calling from nearly Every damp portion of the landscape!!! (Flooded fields, backwater areas along creeks and even road-side ditches!)
Needless to say...Spring 2008 was Great for Amphibians!
And those heavy June rains produced another big surprise: On the evening of June 7...
Great Plains Toads
(Bufo cognatus) were heard calling in Watonwan county!!! The very first time this species has ever been documented this far East!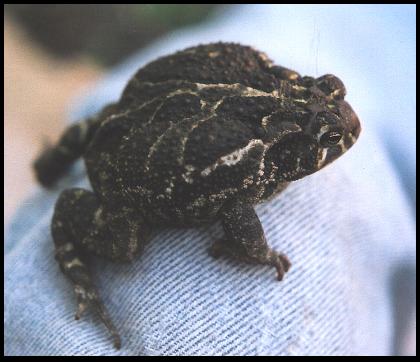 Plains Toads
are a little different than our more common American Toad: They have big dark circular blotches on their back. (Common Toads are a lot more speckled) And while American Toads have a nice sweet sounding "tinkly" kind of trill that lasts from 5-20 seconds at a time...the Plains Toads emit an ear-shattering metallic jack-hammer like trill that lasts from 20 seconds to a minute long.
(The sound can be truly deafening at close range!!!)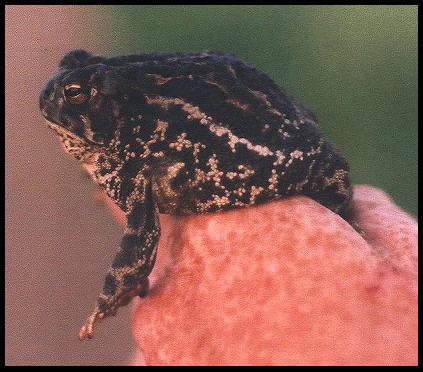 Plains Toads
are fairly common in the western states and, in the past, have been documented in every SW county in Minnesota. However...During the last 2 years (2006 and 2007) the Minnesota County Biological Survey failed to find any of them in the areas where they were previously documented. The conditions have to be just right for these Toads to call and reproduce: Intense heavy downpours and temporary standing pools of water. ('06 and '07 were Not good years for this) So it was a huge (and pleasant) surprise when the flooded fields of my own immediate neighborhood produced not only favorable conditions...but the Toads that went with it! I have been scanning this area since 1997 and have Never heard a Plains Toad around here.