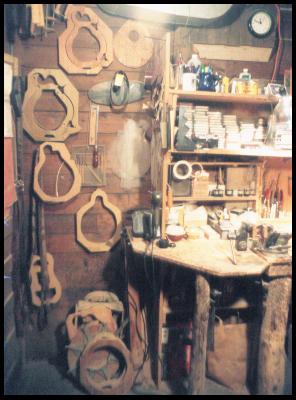 Introduction The Cricket Fiddle Logo The Shop Biological Survey
The (old) Shop (Pics of the New one coming soon)

The Shop. Or as I called it…the "Fun House." This used to be a storage room in the basement of that big old house I lived in. I moved my tools and set up shop in here in 1987. The foundation stones are Kasota Limestone. (The local bedrock in the area.) All underground. An 'A' Bomb could've gone off outside and I wouldn't hear it. It was cool in the Summer and COLD in the Winter! But I liked it here.