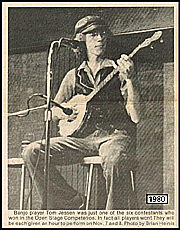 Introduction The Cricket Fiddle Logo The Shop Biological Survey
---
Current Catalog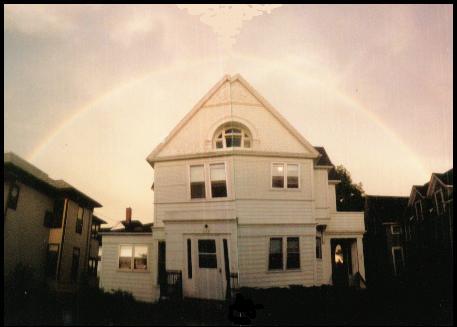 The Old place above. I Don't live there anymore. (Definitely Haunted!!!)
Introduction
I started making musical instruments in the late 1970's.
My first attempt was a 5-String Banjo made out of a pine board I found in the garage. I was inspired to make one after reading The Foxfire Books. (A series of books that covers everyday life and the arts and crafts of Southern Appalachia) I made it on the picnic table in my parent's back yard in Luverne, Minn. I still have the remains of its carcass: (I remember building it…but don't remember playing it! Must not have been very impressive.)

My next attempt was an Appalachian Dulcimer made from a kit. (I gave that one to my first girlfriend. And she politely returned it shortly before marrying a dairy farmer) After that…I proceeded to experiment with making weird things like Hammered Dulcimers. Many of those turned out quite well. (Except for a select few that literally exploded in the night!) If you've never heard a Hammered Dulcimer blow up in a small apartment only a few yards from your bed at 2:00 am…well then you probably built yours right the first time. After that I got smart and did it right, too.
My instrument building career really took of after I dropped out of college. (Mankato State…God Bless their years of infinite patience with me!) However…poverty soon followed and I took employment with the Green Giant Company in LeSueur, Mn. I worked like an Egyptian Slave in the warehouse for 9 summers of my life…and every Autumn after Corn Pack was done…I bought a new power tool. By the winter of 1995…I was all set. It was also very convenient that the plant in LeSueur closed down just then, too! "Free at Last…Free at Last…"etc. That year also marked the real beginning of my other passion.
(See "Biological Survey")
I started building Mandolins in 1986 when I moved into this cheap little basement apartment near downtown Mankato. (Photo left) The lower basement area contained a disastrous trash pile complete with broken glass, old moldy mattresses and some dead mice. I promptly went to work cleaning it up. The landlord was impressed and agreed to let me build a workshop in a corner room. And that's where I was for nearly 20 years. ??? Can it be?!!! Guess so.
It was a nice place...because from that little Hobbit Hole emerged: 53 Mandolins, 17 Hammered Dulcimers, 12 Mountain Dulcimers, 17 Bowed Psalterys, 8 Irish Drums, 10 Banjos, 2 Hurdy Gurdys (NOT counting the one I got mad at and destroyed!) 3 Nyckelharpas, 4 Norwegian Fiddles…and about a dozen other weird medieval instruments that defy description! (And have funny names anyway)

So…Finally…Here's my up-dated web-site. (After the big move) Check it out. If you think you might want something that's not on display here…let me know. I'll try making anything that's got strings on it. (NO Pianos, please.)
---
Tom Jessen (TJ) Madelia, Minn.