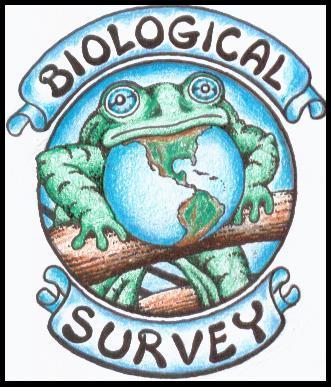 Tangerine Honduran Milksnakes
(Lampropeltis hondurensis)
For sale:
All hatched on September 26, 2016, from a pair of 20 year old adults. The adults were purchased as unrelated hatchlings in 1997 from John Meltzer. The parents of mine were imported from Honduras as hatchlings in 1993. So these are (as far as I know) pure blood Hondurensis, het. for nothing.
___________________________________

All are feeding weekly on frozen thawed hopper mice, some right out of my hand. They're big and beautiful when left alone, but be warned: When picked up and excited they are very good at projectile crapping! They should all tame down nicely though in another year or so.
____________________________________

I currently have 4 males

and 1 female available:
_____________________________________

I've given each one a nick-name based on physical appearance. Sorry if they're not very imaginative, but it's all I got for now. You can certainly name them whatever you want.

________________________________
'BullsEye'

(Male) 27"
(Sold)

Both parents have a noticeable 'bulls-eye' pattern on their bellies. This one is the pick of the litter of the males.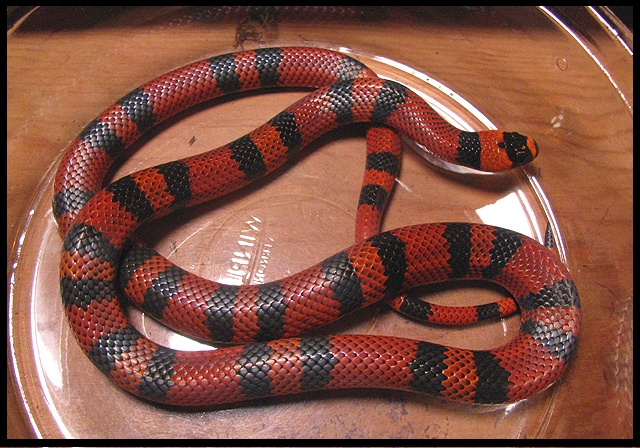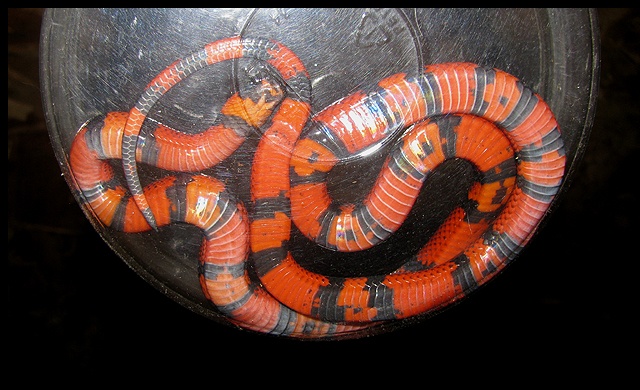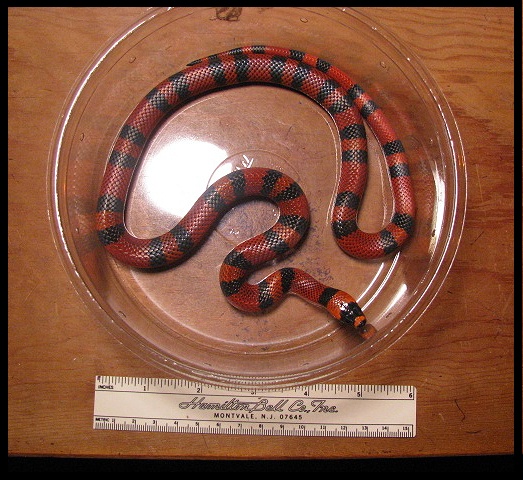 ________________________________________
'Dark Dot'
(Male) 24"
$140
He's the smallest one of the bunch, and has plenty of black tipping on the scales.

A classic 'Strawberry Milksnake'.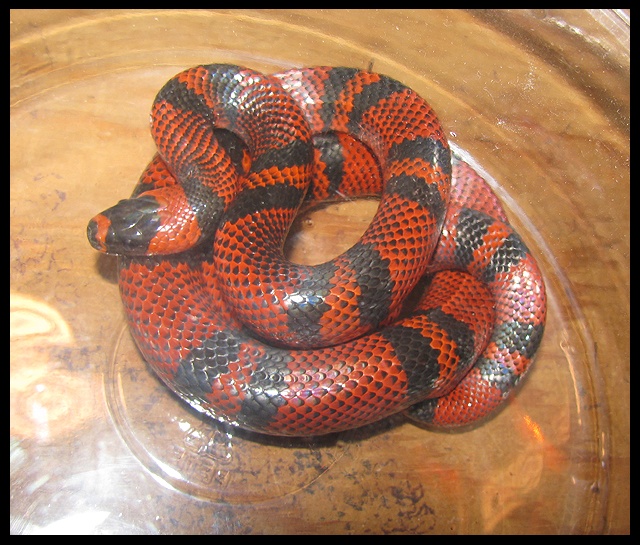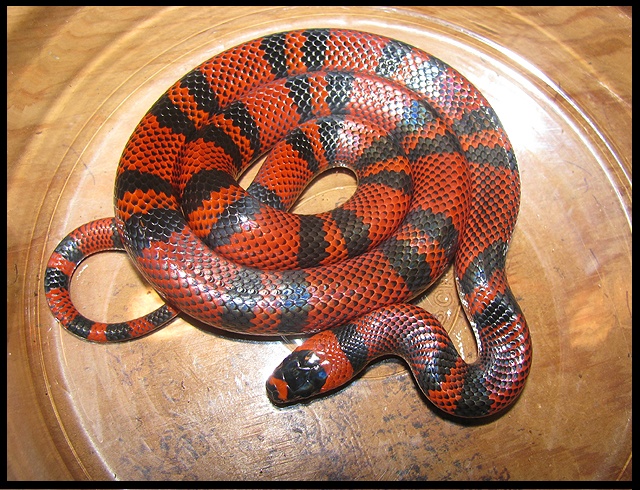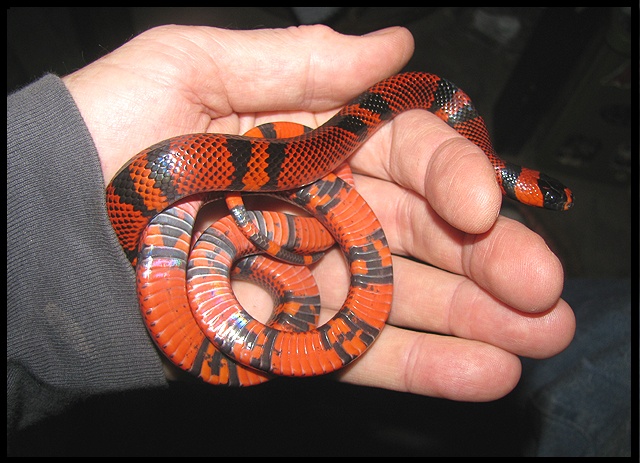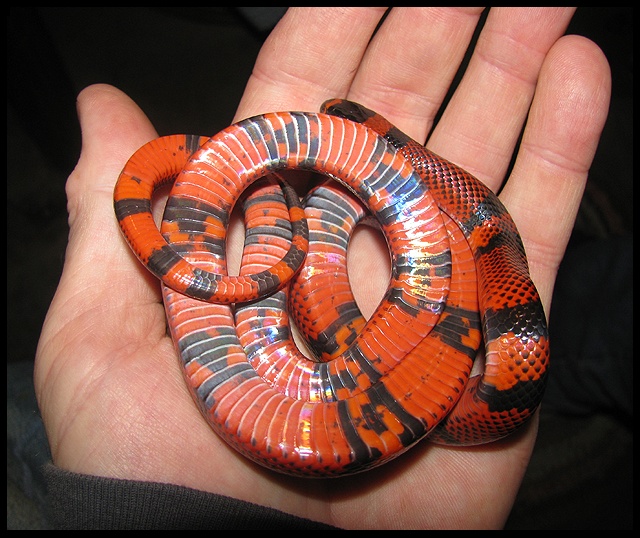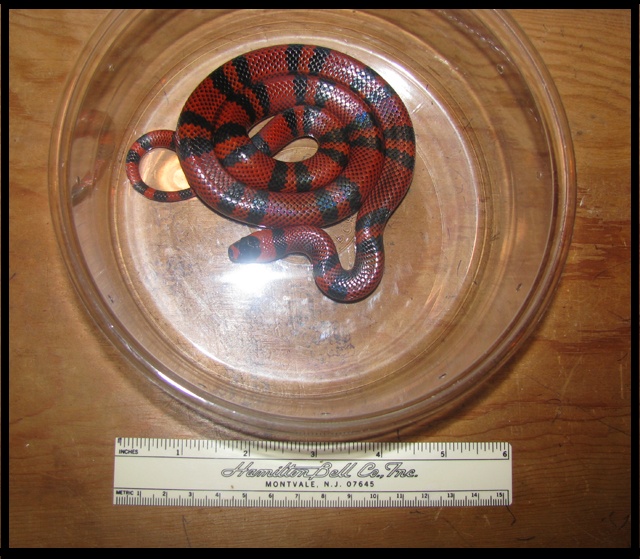 ________________________________________
'One Hemi'
(Male) 25"
$140
I need a better name for him, but when I popped him, only one hemi-pene appeared. Don't know if that would have an effect as a future breeder, but just thought you might like to know that.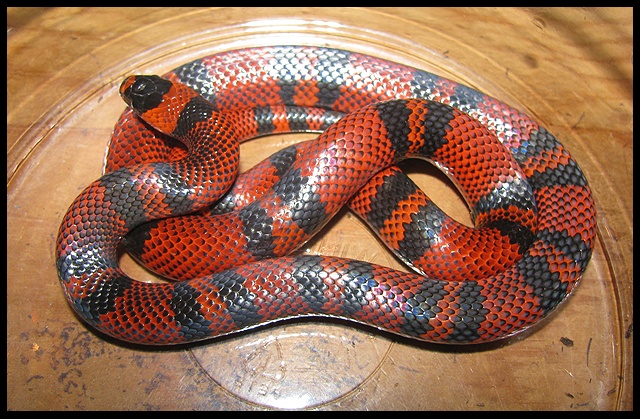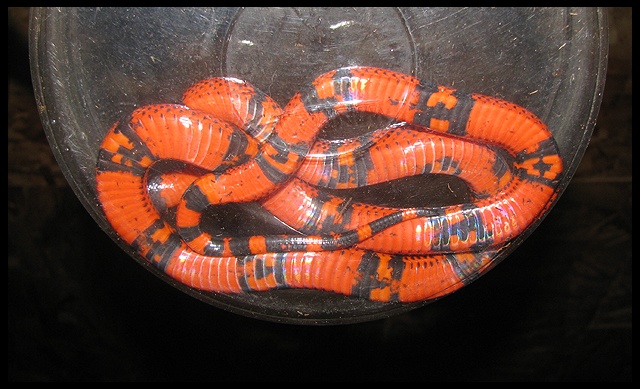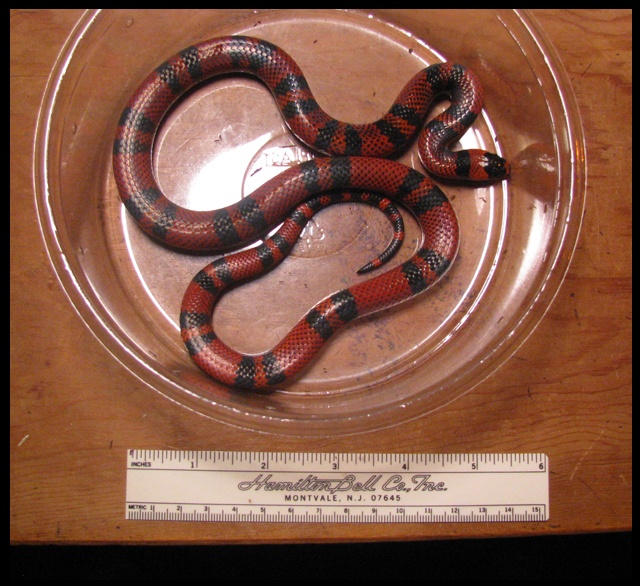 ________________________________________
'Peak'
(Male) 26"
$150
Named after the 'Widow's Peak' on his head.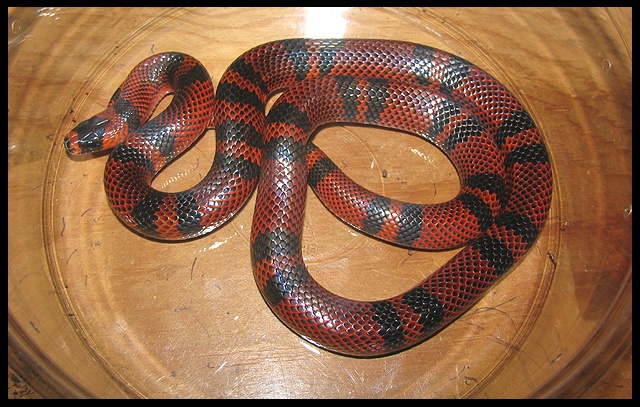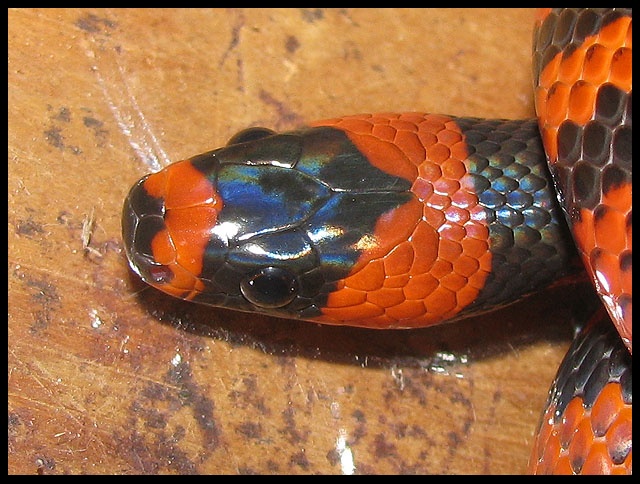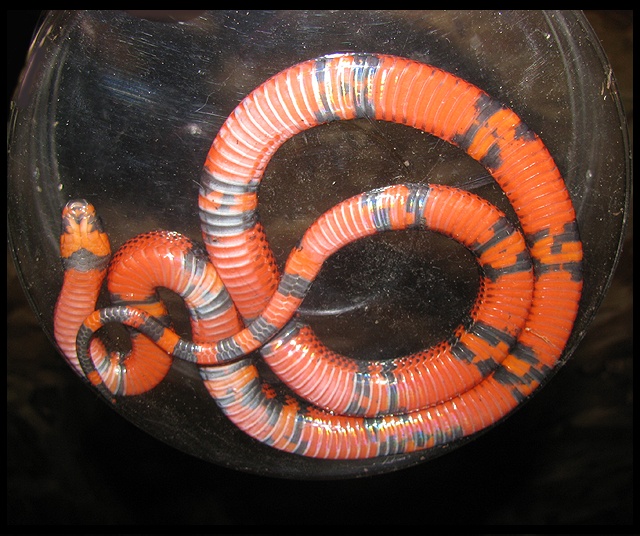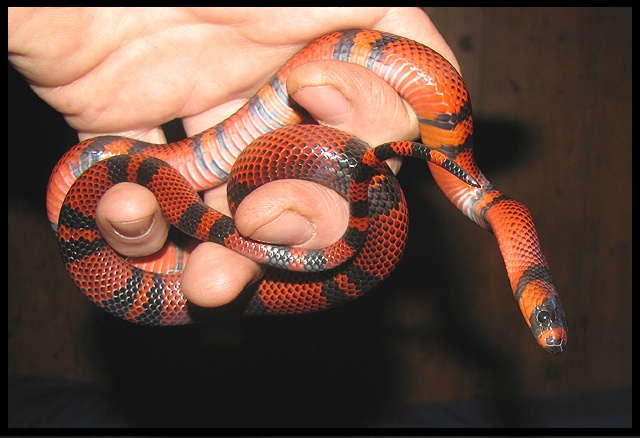 ________________________________________
'Spot'
(Male) 27"
$150
(On Hold)

Obvious name for this one. Has an especially gorgeous clean belly pattern.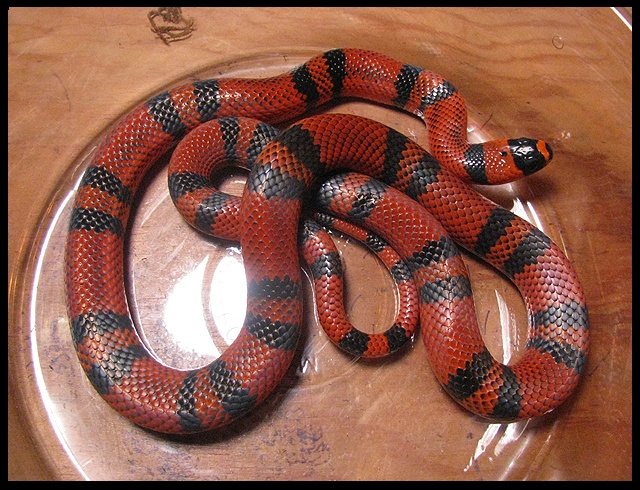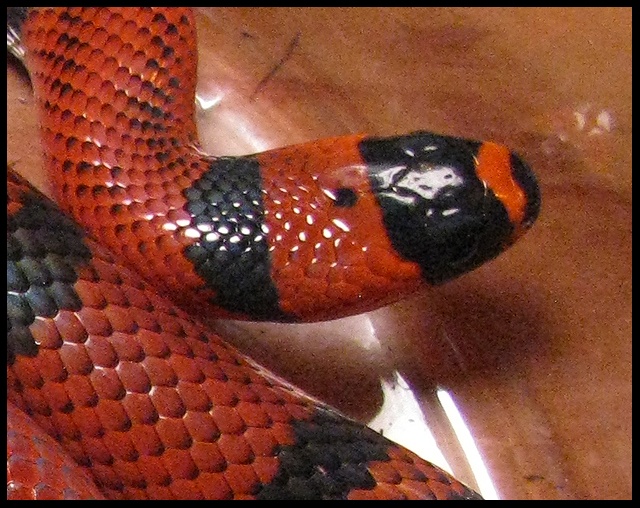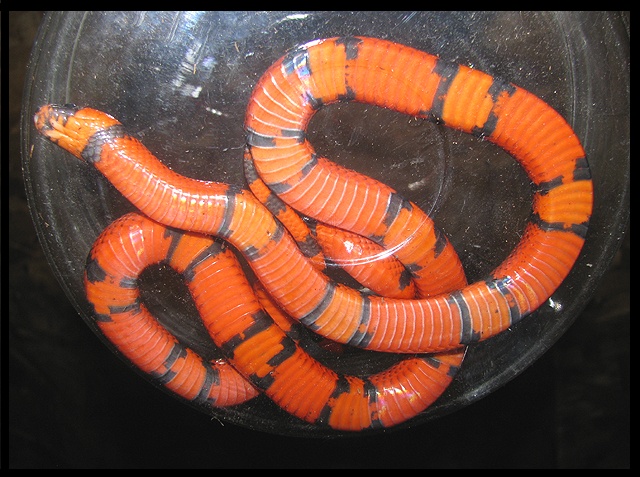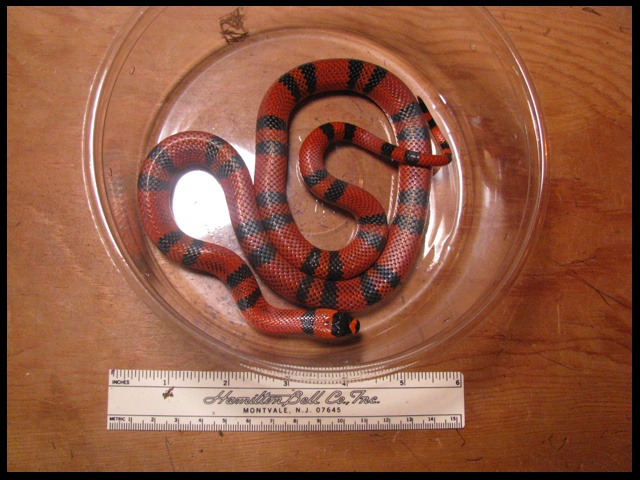 ________________________________________
'Ducky'
(Female) 27"
$150
(On Hold)
'Ducky' here had an unfortunate encounter with a strip of duct tape when she was very small. She looked pretty rough for a while, but as you can see, that scar on her neck is the only remnant.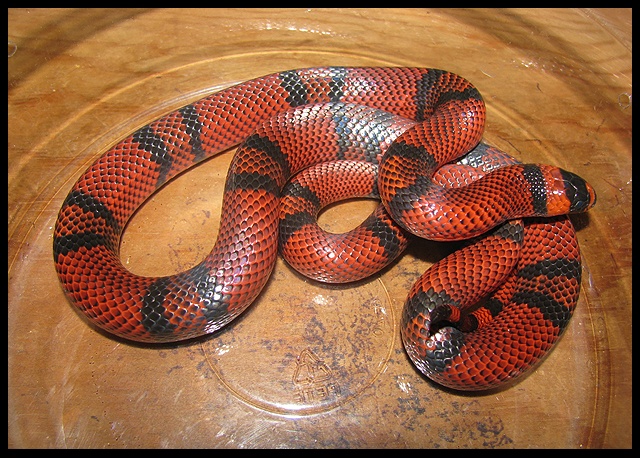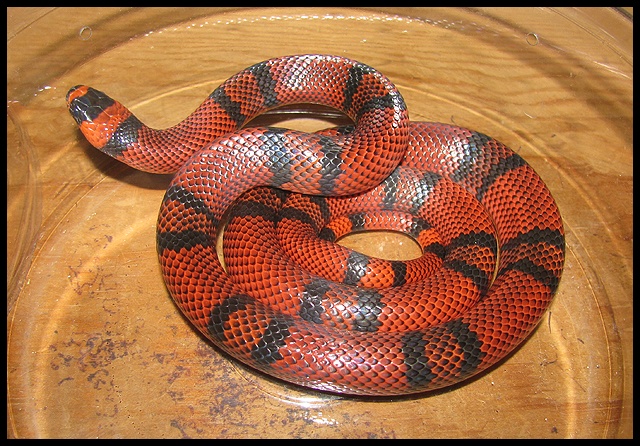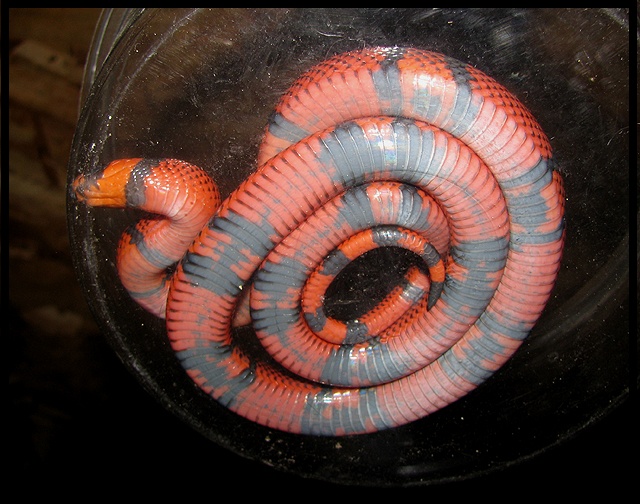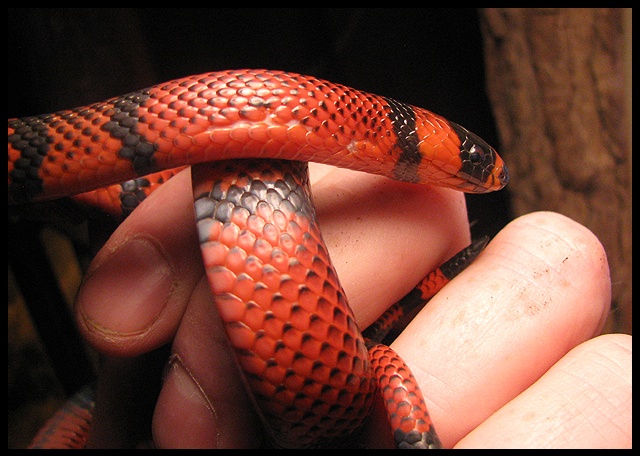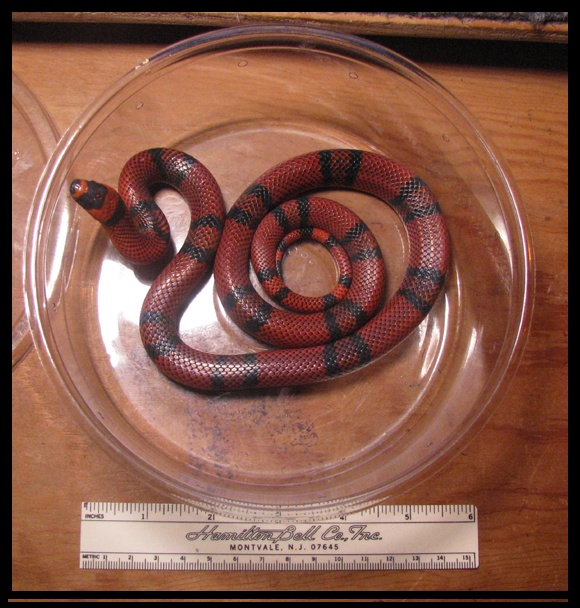 _______________________________________
'Finicky'
(Female) 27"
(Sold)
This one started out as a troublesome feeder. Shes fine now, and never refuses a meal. She was in shed for the photo, so she has a slightly pink tone.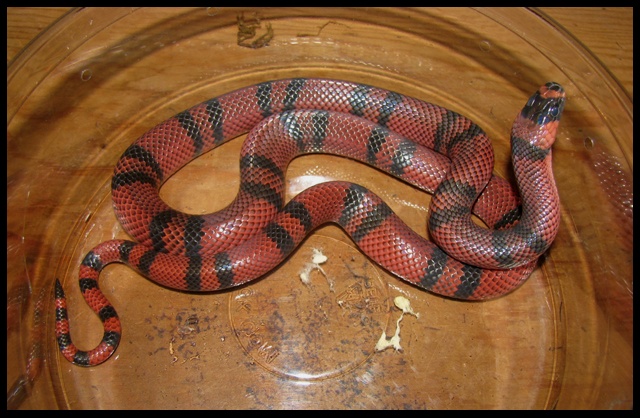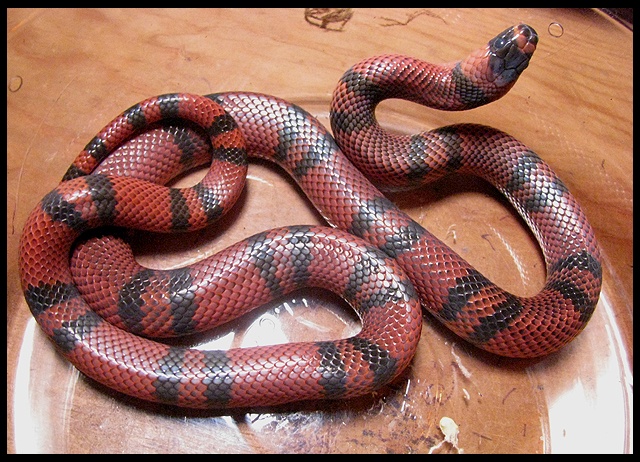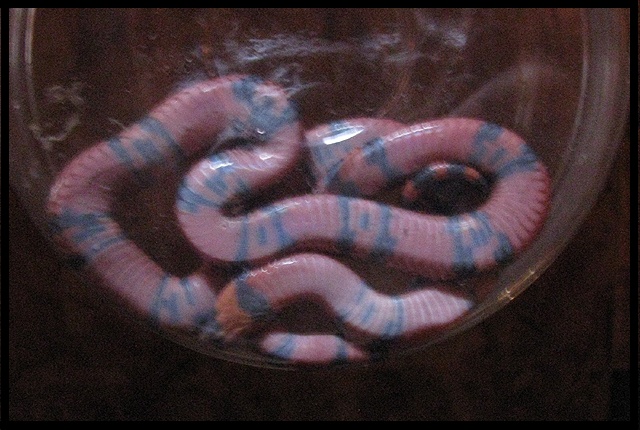 ________________________________________
And here are the parents:

'Tang' the male.
Close to 5 feet long and still just as gorgeous as the day I bought him.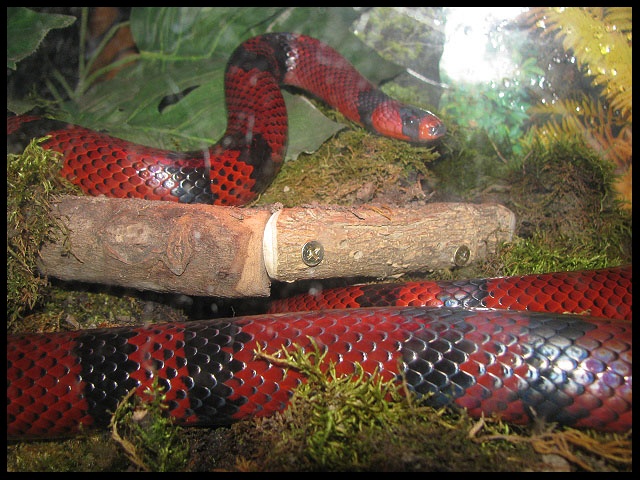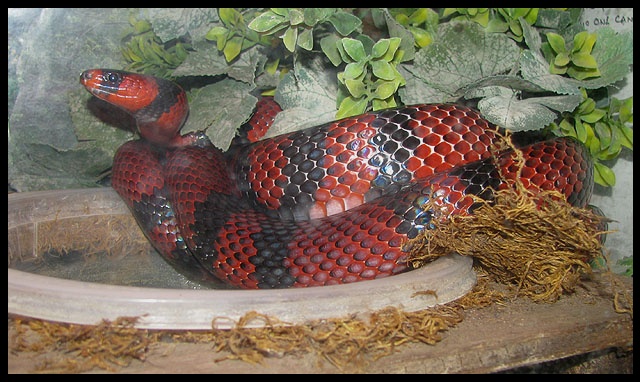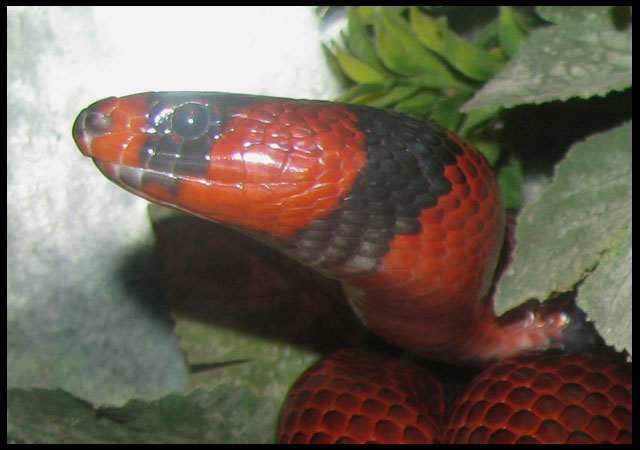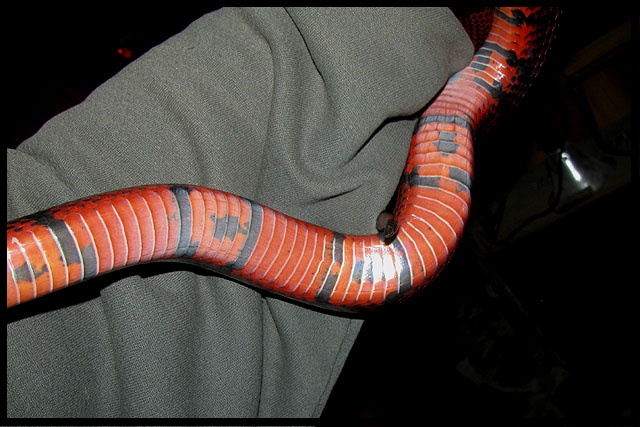 And here is the female:

'Tangiers'.

She gradually got dark as she grew, and was pretty nasty too, but after a few years her color actually became brighter and she tamed down quite a bit. She measures in at 6 feet long.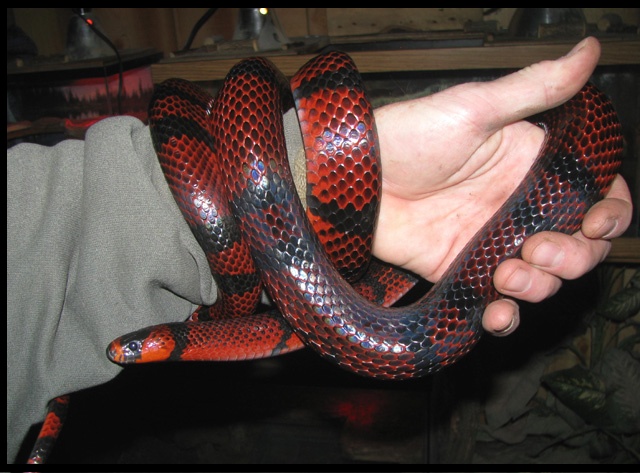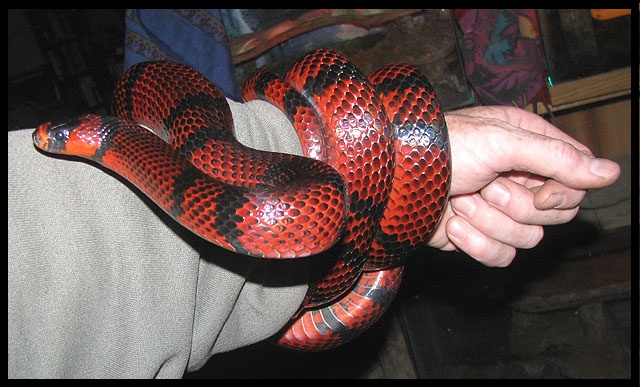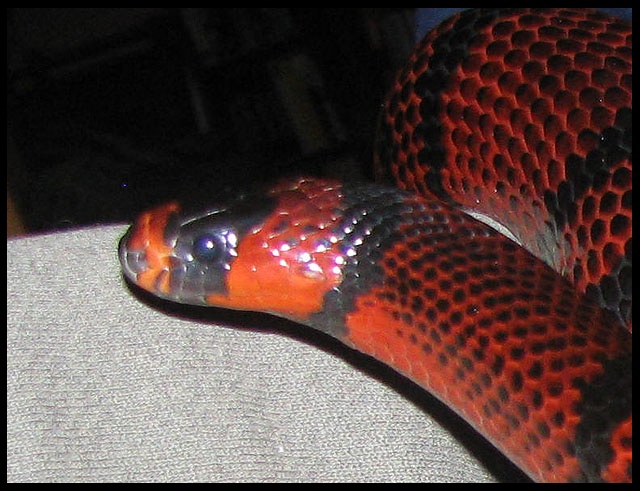 Here's the happy couple busy mixing up a new batch. I was actually going to retire her from breeding 3 years ago, then the previous owner asked if I still had any of the old line left, as the last of his eventually died out. Glad I did too, as she has double-clutched each year since then. Not all of her eggs have been fertile though, but Last year was her peak performance with a clutch of 11 Huge eggs, and two sets of twins!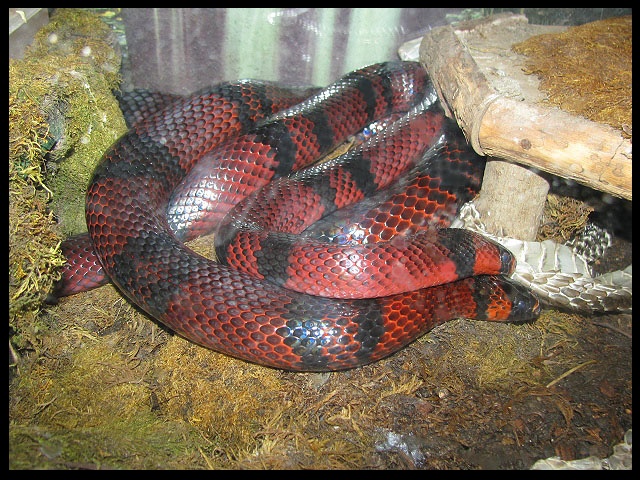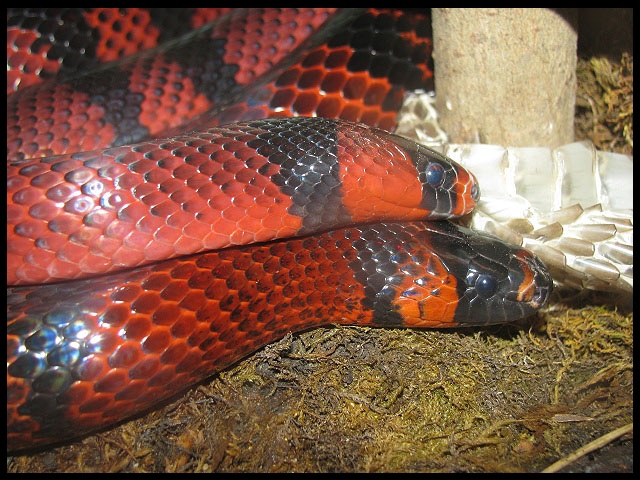 ________________________________________
Down below is the life history of the

Eastern Milk snake, native to the area.

________________________________________
Eastern Milksnake: These medium sized snakes are nearly identical to Fox Snakes including size, habits and coloration. However...they belong to an entirely different group: (Lampropeltis triangulum) The name "Milksnake" originated from the southern Appalachian region where farmers were convinced that their Cows were being milked dry by these 3-4 foot long snakes. An erroneous belief...for all snakes have lots of very tiny very Sharp teeth that no Cow in the world would stand for! It's more likely that they were in the barns hunting for Mice. (Of which they consume a great many of every Summer) These snakes also eat a wide variety of prey items including: Mice, small Rats, nestling Birds, eggs, Frogs and Other Snakes!!! The Milksnakes in south central Minnesota are renowned for being the most dull, colorless variety in the whole upper mid-west! (In other parts of the country they exhibit a wide array of reds, tans, gold and even a rare "greenish" color phase. (The individual to the left portrays the most common color variety around here. The rust colored one up above was the prettiest one I've ever seen!) However...They seem to have a subdued beauty all their own as adults. Hatchlings, on the other hand, often times have brilliant Red blotches on a creamy white background. These snakes are probably the most rarely seen of all our snakes. They might be a lot more common than we think. The only problem is they are experts at hiding! They spend most of the daytime buried just below the surface in the grass and leaf litter and apparently only come out at night during the hot Summer months. About the only time you'll ever see one of these is late in the year (Indian Summer) when hatchlings are out seeking places to hibernate. I average only about 1 or 2 sightings of these mysterious creatures a year. I've been told that these Snakes were extremely common in and around the New Ulm area! Stories abounded of the poor local residents being tormented by Milksnakes trying to move into their basement foundations in the Fall. (I'd like to find out if this is still true) If so...Just leave them alone. They'll come and go without causing any trouble at all. (In fact they'll take all your pesky Mice out with them when they leave in the Spring) If the mere idea of this is truly Horrifying...PLEASE don't kill them! Call ME instead. I've been wanting to obtain an adult pair for further research and to get some better photos.